Debian Wheezy comes with PHP 5.4. If this is too new for your application and it doesn't work properly, here is a short description on downgrading to PHP 5.3.

First, add these two lines to /etc/apt/sources.list. In short, it adds Debian Squeeze repositories as an additional source of packages:

Then, add these to pin your old PHP 5.3 packages, to /etc/apt/preferences.d/preferences. If you don't have this file, create an empty one.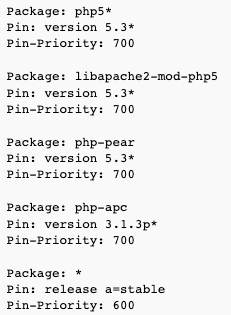 This will list your PHP packages