Do you struggle to collect and organize contact data for your marketing or hiring efforts? Searching for contact information manually can be incredibly time-consuming, especially when dealing with multiple social media platforms.
Fortunately, with email extractors, you no longer have to waste precious time on this repetitive task. In this blog post, we'll introduce you to the top 16 email extractors that can collect and organize data. Whether you're a marketer, hirer, or job seeker, these tools can benefit you.
So, let's dive into the top email extractors and see how they can make your life easier!
What is an Email Extractor?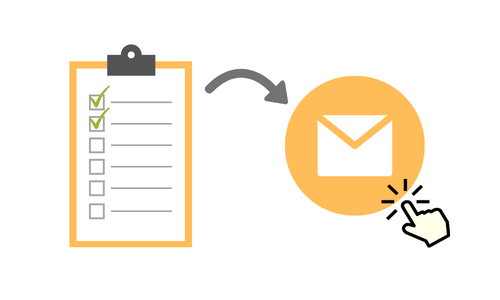 An email extractor is a software tool used to extract email addresses from internet datasets, including websites, social media platforms, directories, and other online databases.
📙
Email extractors employ web scraping methods and algorithms to look up and locate email addresses from sources. Several file formats can be used to save the extracted email addresses such as CSV, TXT, or Excel.
Once you have created your list, it can be used to generate leads and for your marketing campaigns. Email extractors are helpful tools that businesses, sales professionals, and marketers utilize to collect email addresses from their targeted audience.
How to Benefit from Email Extractor Tools?
Email extractors could be of benefit to you if you need to collect a large number of email addresses quickly and efficiently for your business or personal use, such as for email marketing campaigns, building a contact list, or conducting research.
Extracting email addresses help you with;
Saving time.
Processing emails in a bulk. An email finder tool is not limited to just searching for individual emails, but can also process emails in bulk. This means that the tool can quickly and efficiently extract large volumes of email addresses from various sources, such as websites, social media platforms, and online directories.
Makes a list for you.
Extensions help with accessibility.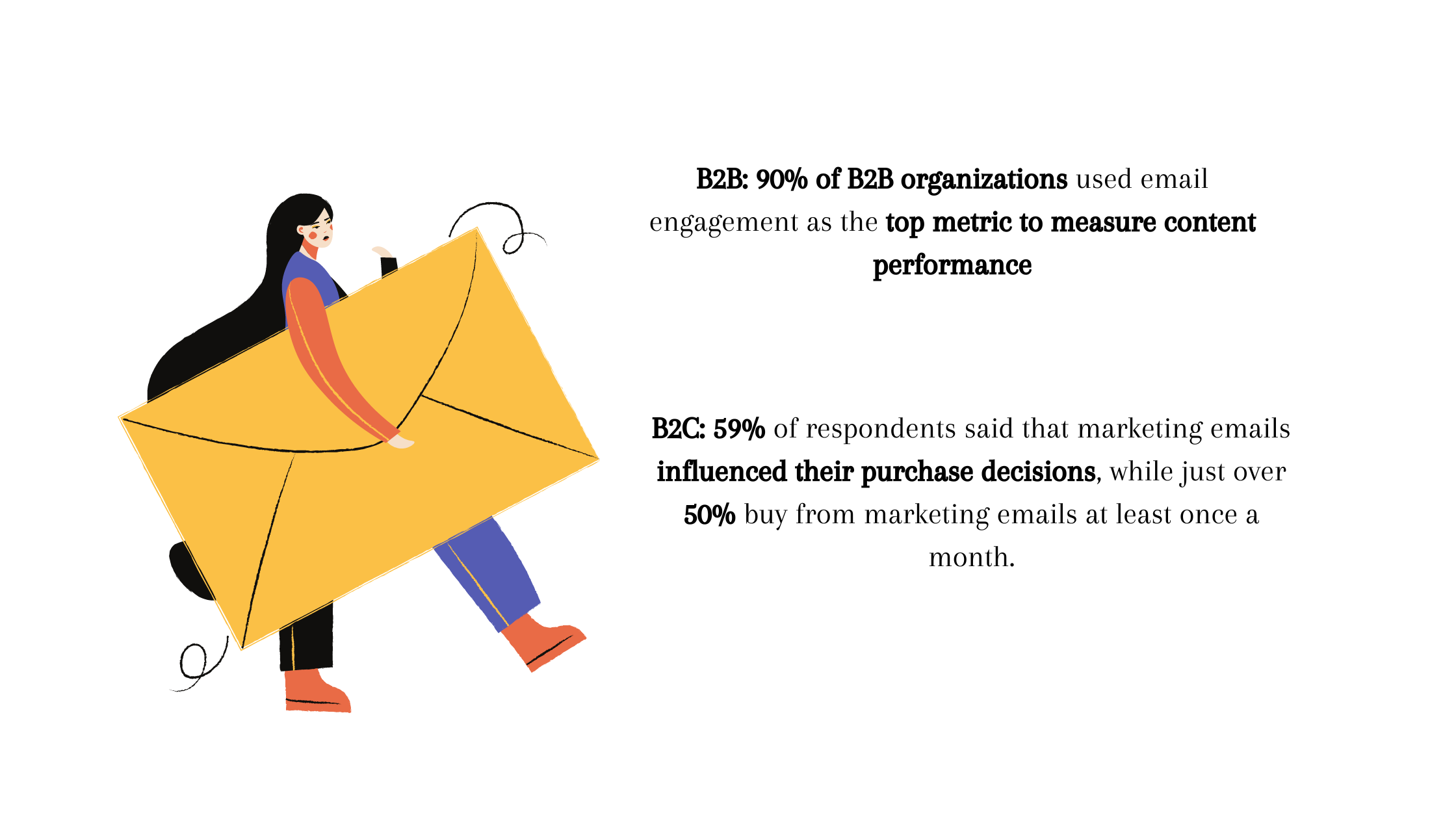 What can you use email extractors for?
Email Marketing: By extracting the email addresses of people who have shown interest in your products or services, you can create customized email campaigns that are more likely to convert leads into customers.
Market Research: Email extractors can help you conduct market research by conducting surveys or sending out questionnaires -to the collected emails- to gain insights into consumer preferences and behavior.
Competitive Analysis: Email extractors can be used to extract the email addresses of your competitors' customers or subscribers. This can help you analyze your competitors' email marketing strategies.
Recruitment
Lead Generation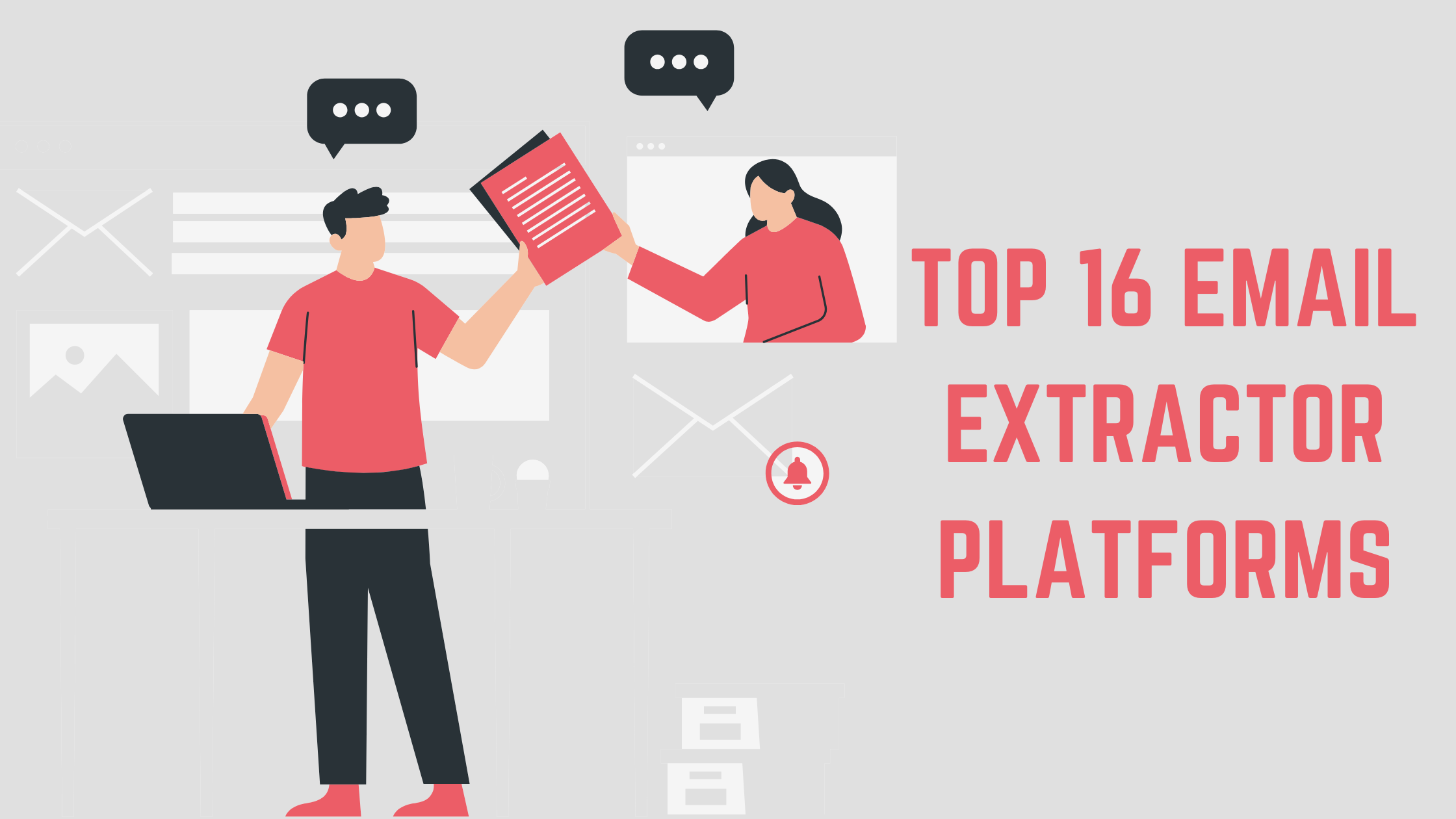 Top 16 Email Extractor Tools
1) Hunter.io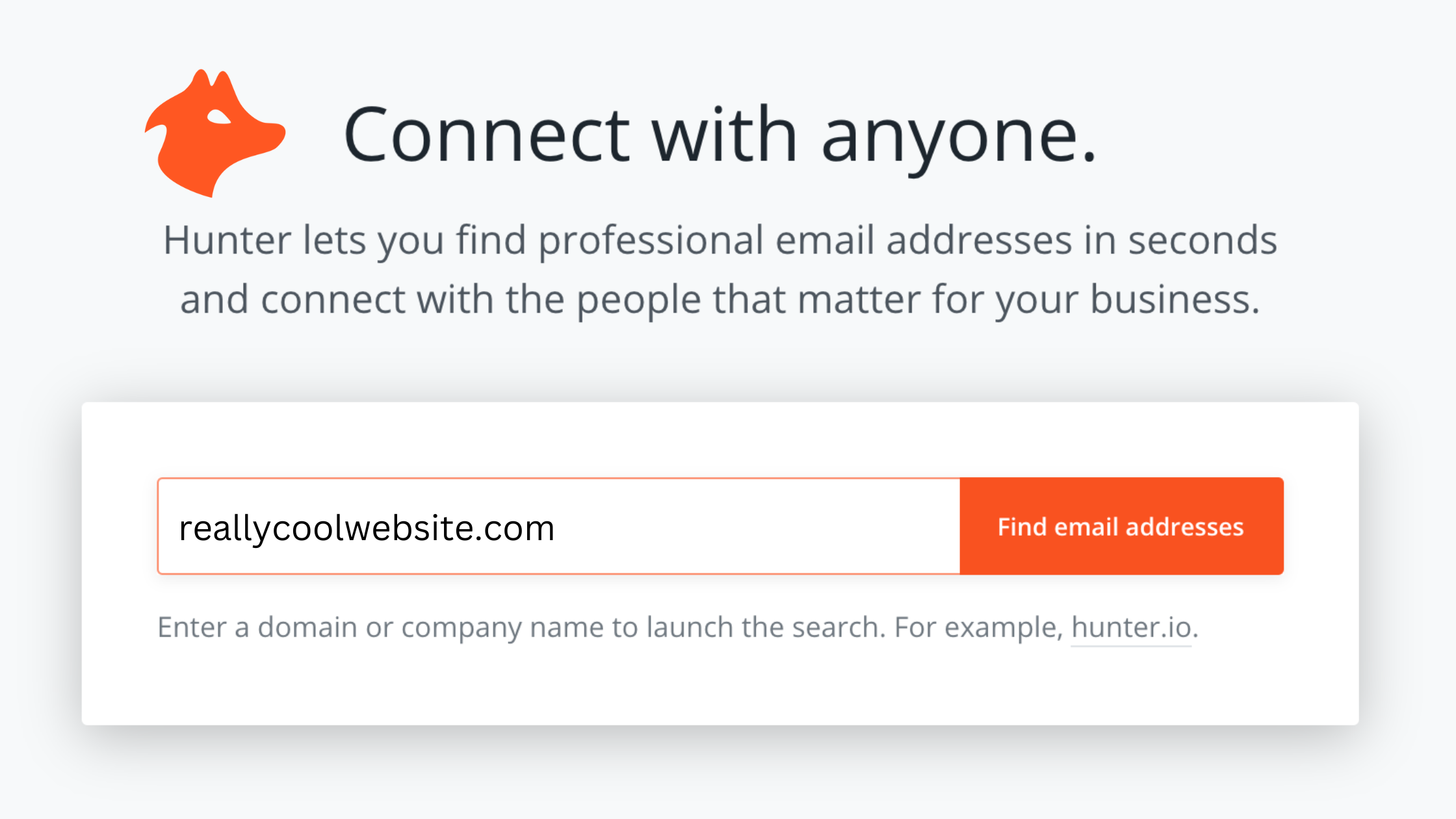 Hunter.io enables users to look up and validate business email addresses. Hunter.io encourages people to use the platform for legal purposes and they claim they are the only email finder tool to use 100% transparent data.
According to Hunter.io, they have access to a database of more than 76 million websites, which they utilize to construct lists of email addresses connected to various businesses and domains.
Users of the tool can now quickly and simply access the contact details of potential leads, customers, or job applicants. To guarantee the accuracy and timeliness of the information offered, a large database of websites is frequently updated.
Pros:
User-friendly software
Good customer service
Large database
Updated regularly
Chrome extension
Follows GDPR and CCPA
Free trial
Cons:
Not expensive but more than average price range
Can come up with incorrect mail addresses from time to time
⏰
Hunter.io offers a chrome extension.
Review posted on TrustPilot on Hunter.io:
"Someone told me about the Hunter extension and I cannot Live without it now. It's so easy: go to website of company you are interested and if you see the Hunter icon is red click it & it gives you email addresses it has verified and / or suggested format. It's super easy and accurate!"
Top features of Hunter.io;
Email verification
Users can check the reliability and validity of email addresses using Hunter.io's email verification tool, which lowers the chance that emails will bounce or go into spam folders.
Bulk email management
Customers may send and manage email campaigns to numerous subscribers at once using Hunter.io, enabling effective and efficient outreach.
Lead management
Hunter.io offers tools to make it easier for customers to prioritize outreach activities and keep track of follow-ups by helping users organize and track their leads.
Campaign optimizer
To help users increase the efficiency of their email outreach programs, Hunter.io's campaign optimizer offers insights and suggestions.
2) Snov.io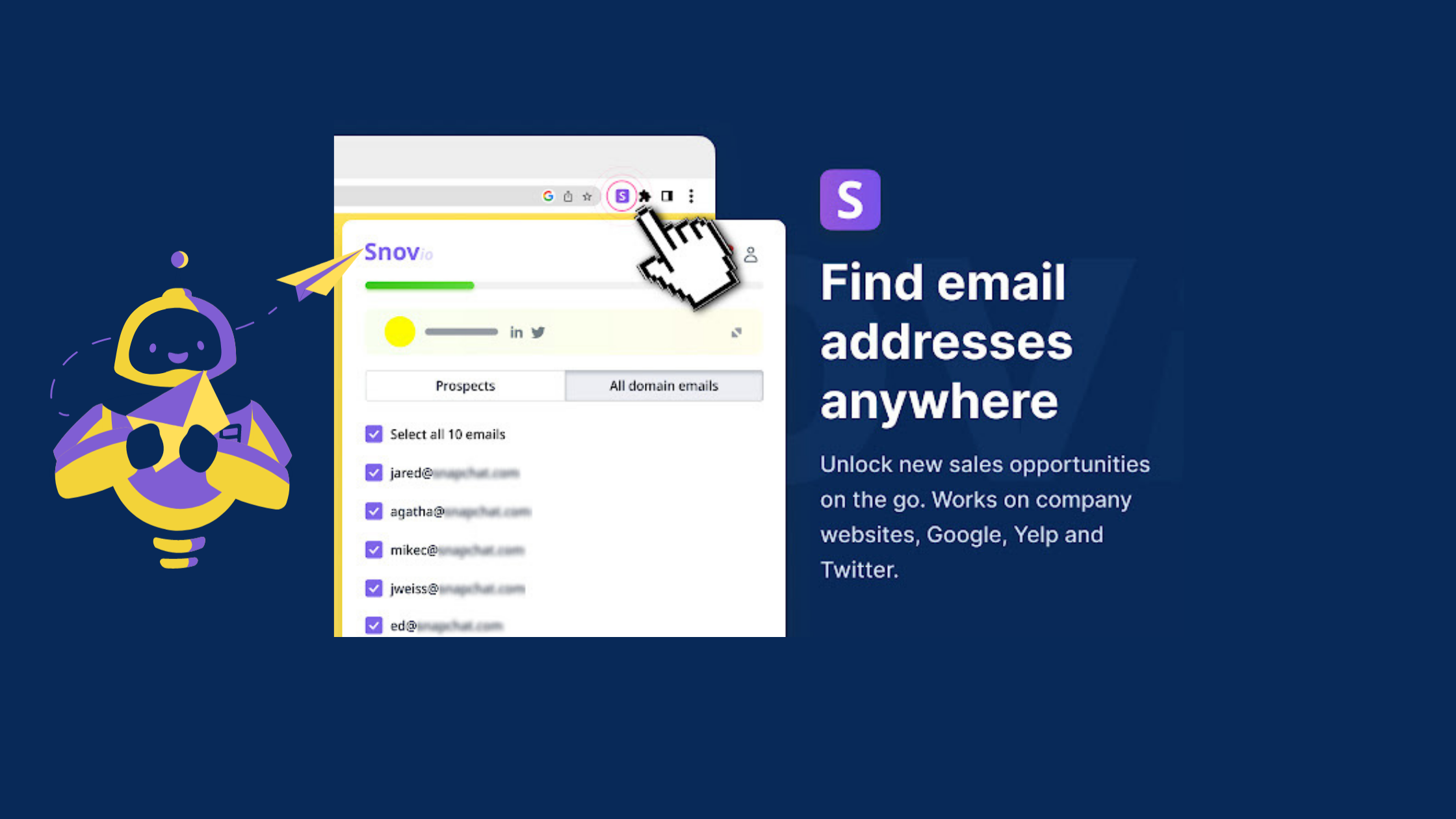 Snov.io is a helpful email extractor tool that provides email marketing and outreach solutions. It is designed to help users find and verify email addresses, automate outreach, and track email campaigns.
Pros:
Variety of tools one can use
Integrates with popular CRM tools (HubSpot, Salesforce, Zoho and etc.)
Offers 7-day free trial
Cons:
Not-updated occasionally
Pricey
Bugs that happen rarely
⏰
Snov.io email extractor chrome extension is in use.
A review that was written about Snov.io on G2:
"What problems is Snovio solving and how is that benefiting you?
Snov.io helps us to find new prospects and convert them to customers, and verify their emails. Also, Snov.io has a great sequence feature - we can set up follow-ups and never worry that our prospects aren't communicated enough. Best service for cold email outreach so far!"
Top features of Snov.io;
Email tracking
Businesses may monitor the effectiveness of their outreach programs and receive instant alerts when a receiver opens or clicks on an email by using Snov.io's email tracking feature.
Email verification
Can identify invalid email addresses to avoid bounce-backs which will in return increase deliverability rates.
Email templates
Create professional emails from Snov.io's large template pool, tailored according to your needs.
Email drip campaigns
Snov.io's email drip campaigns enable businesses to automate their outreach efforts.
API
Integrating the Snov.io API into your platform can help you save time and effort, streamline your workflow, and provide your users with a powerful email outreach solution.
Snov.io has received mixed reviews from users regarding its customer service. Some users have praised Snov.io's customer service representatives for being polite and helpful, and have also noted that they provide useful tips related to marketing.
However, others have complained that the customer service team is lacking in technical knowledge and skills. Make sure to talk with a customer service or sales representative before you buy the product!
3) FindThatLead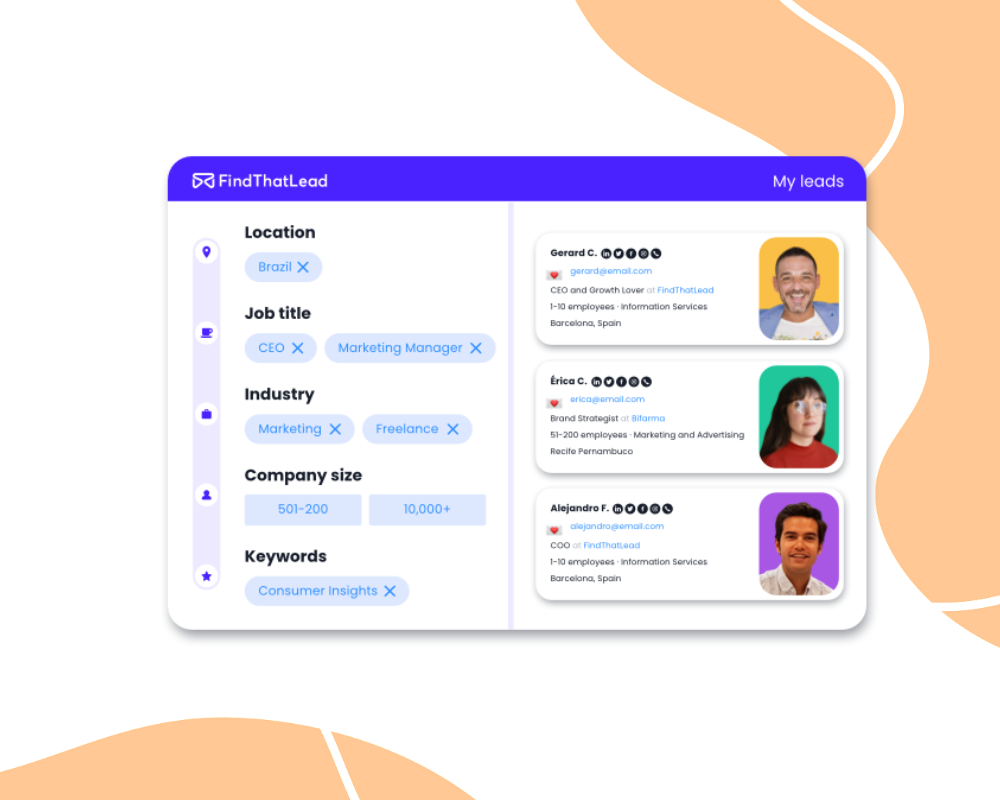 The email extractor tool provided by Find That Lead offers a wide range of capabilities that span from cold outreach efforts to email verification.
FindThatLead platform currently holds three awards from G2 for; Fall 2021 Fastest Implementation, Fall 2021 Best Estimated ROI, and lastly Fall 2021 Small Business F.I.
Pros:
Easy to use
With an email address, you can also acquire job title (and other useful information)
Cons:
Rarely can produce inaccurate data
FTL is not effective for link building
⏰
FTL's effectiveness for link building is limited by the lack of contact strength measures, department filters, and a backup filter system, resulting in C-level emails being returned in bulk uploads.
FindThatLead review on Capterra:
"First, ease of use. It's user friendly with a great to navigate layout. Next, their email search is amazing - much better than some of the big guns out there such as Hunter. Feature heavy they cover all the areas of finding a lead and reaching out + they've been progressing so much in the last few years, really fast pace. CSV import saves so much time when you have a list of people and company websites. Chrome extension does wonders."
Top features of FindThatLead;
Email verification
Email drip campaigns
Integration with various CRM and email marketing platforms
Domain Search
FindThatLead's Domain Search tool allows users to find the email addresses associated with a specific domain name. This can be useful for businesses looking to find the email addresses of decision-makers or key contacts within a particular company.
Prospecting
With Find That Leads tools, you can find potential clients.
FindThatLead is a great email scrapper overall, however, it is focused more on the USA side, therefore you may not get what you want if you want to go global.
4) ContactOut Email Extractor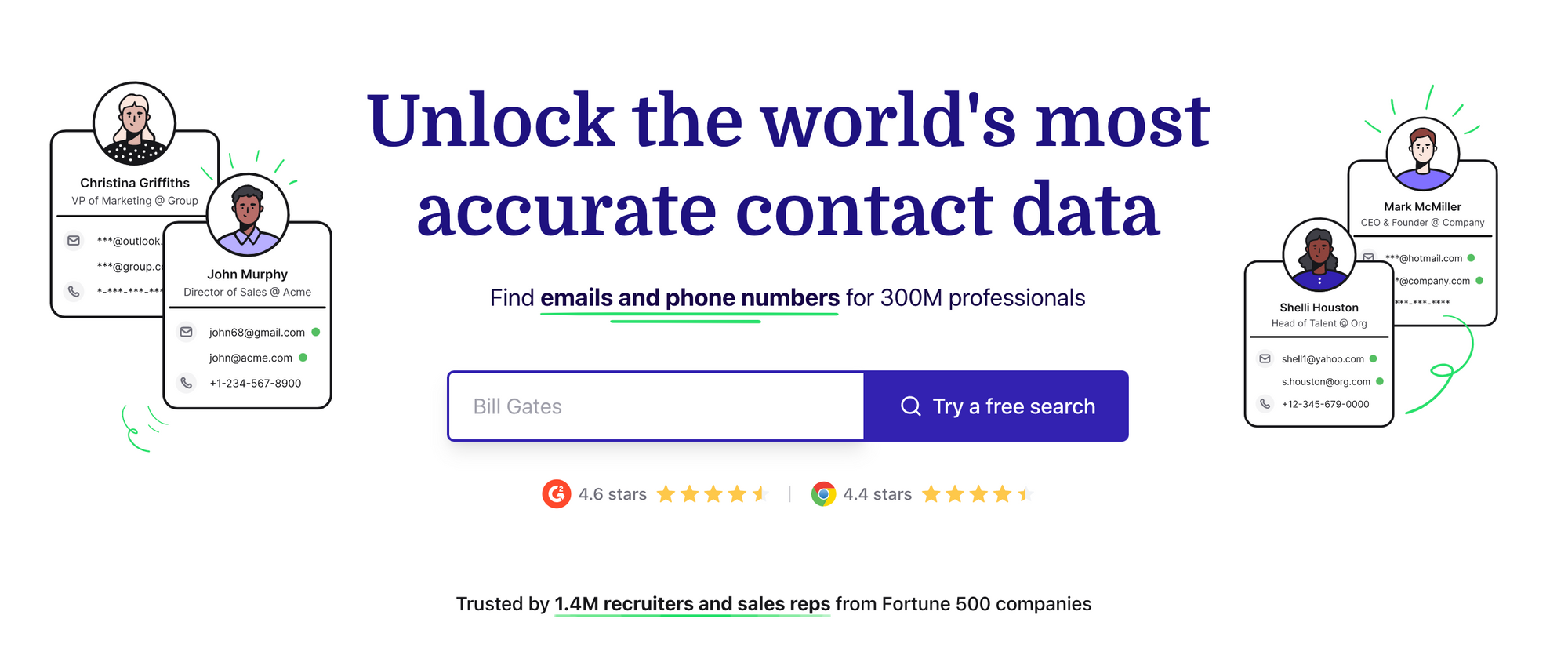 ContactOut's email address extractor is mainly used by sales representatives since it also offers phone numbers.
ContactOut email scrapper has a chrome extension that will help users to improve prospecting by providing insights and additional data.
Pros:
Accurate information
User-friendly
Large database
GDPR and CCPA compliant
Free trial with 100 credits
Cons:
🔍
ContactOut uses data from LinkedIn, Github, and Hubspot primarily. If you are looking to extract data from other platforms, ContactOut may not be the first tool you should go for.
Review on ContactOut posted on Capterra:
"Overall: Overall, contactout has helped me build lead lists that are complete quickly and effectively
Pros: I use Contactout to find leads that are sometimes are hard to find on other lead-generation platforms. The dashboard is easy to use and allows you to search by various criteria.
Cons: There is nothing in particular that I do not like."
Top features of ContactOut;
Email verification
Chrome extension
Bulk email verification
CRM integration
Email verification
ContactOut uses a combination of algorithms and human verification to provide accurate email addresses for potential leads, helping users to reach the right people with their outreach efforts.
Analytics
ContactOut provides detailed analytics on user activity and email campaigns, allowing users to track their performance and optimize their outreach efforts over time.
Some concerning reviews popped up while researching people's thoughts on the web. While it's compliant with GDPR and CCPA regulations, it appears some users are worried that their information is passed around or sold by ContactOut so be careful while using the platform.  
5) AeroLeads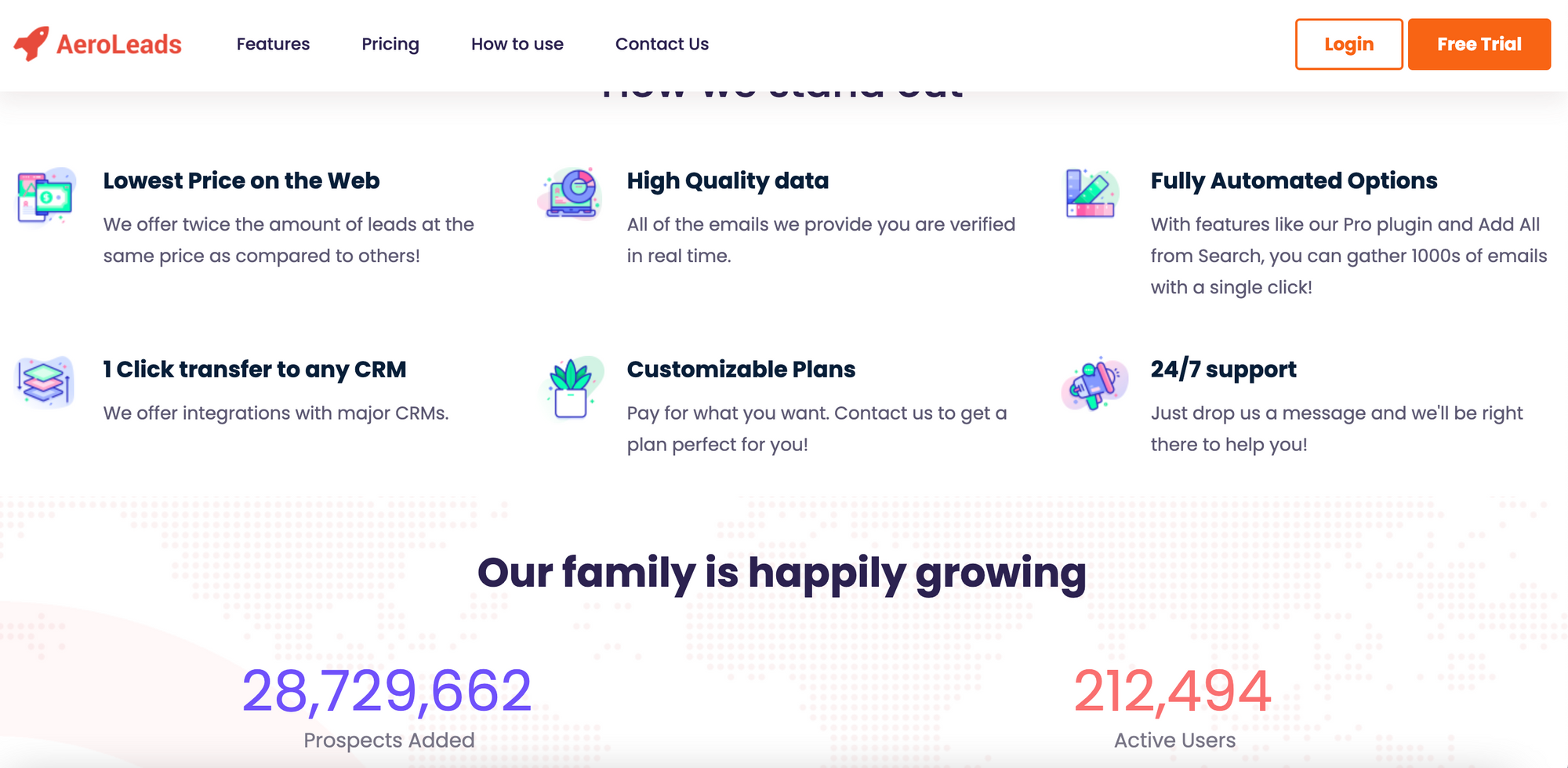 AeroLeads comes in a full package, it has it all! This Email Extractor Tool offers a variety of features that make it a one-stop-shop for lead generation needs.
With AeroLeads, users can streamline their lead-generation process and focus on nurturing and converting leads into customers.
Pros:
Potential leads' confirmed business emails, phone numbers, and social media profiles can be extracted.
Flexible prices
Integrates with CRM tools
Cons:
Not accessible via mobile or other devices
A narrow range of search filters
Inaccuracy from time to time
Average customer support
Review on AeroLeads from Capterra:
"Overall: Easy to use. The simplicity made it easy for me to organize my leads' contact information.
Pros: The best part about the software is that it provides very accurate leads or prospects. They also have a plugin that makes finding prospects easier and adding them to your list. The user-friendly interface acts as an added advantage to the software."
Top features of AeroLeads;
Automated Lead Generation
Users can search for prospects by entering keywords, company names, or URLs, and the tool will generate a list of verified contact information, including emails, phone numbers, and social media profiles.
Real-Time Email Verification
AeroLeads offers a built-in email verification tool that checks the validity of email addresses in real-time. This ensures that users are only contacting leads with accurate contact information, which can improve the chances of successful outreach.
Customizable Fields and Tags
Customizable fields and tags allow users to categorize and prioritize their leads based on their specific business needs. This makes follow-ups to leads quicker!
While AeroLeads' email address extractor does not offer team collaboration capabilities, it may be a feature that some users would appreciate having. If you are looking for teamwork, you are in the wrong place! Keep scrolling.
6) Interseller Email Extractor Tool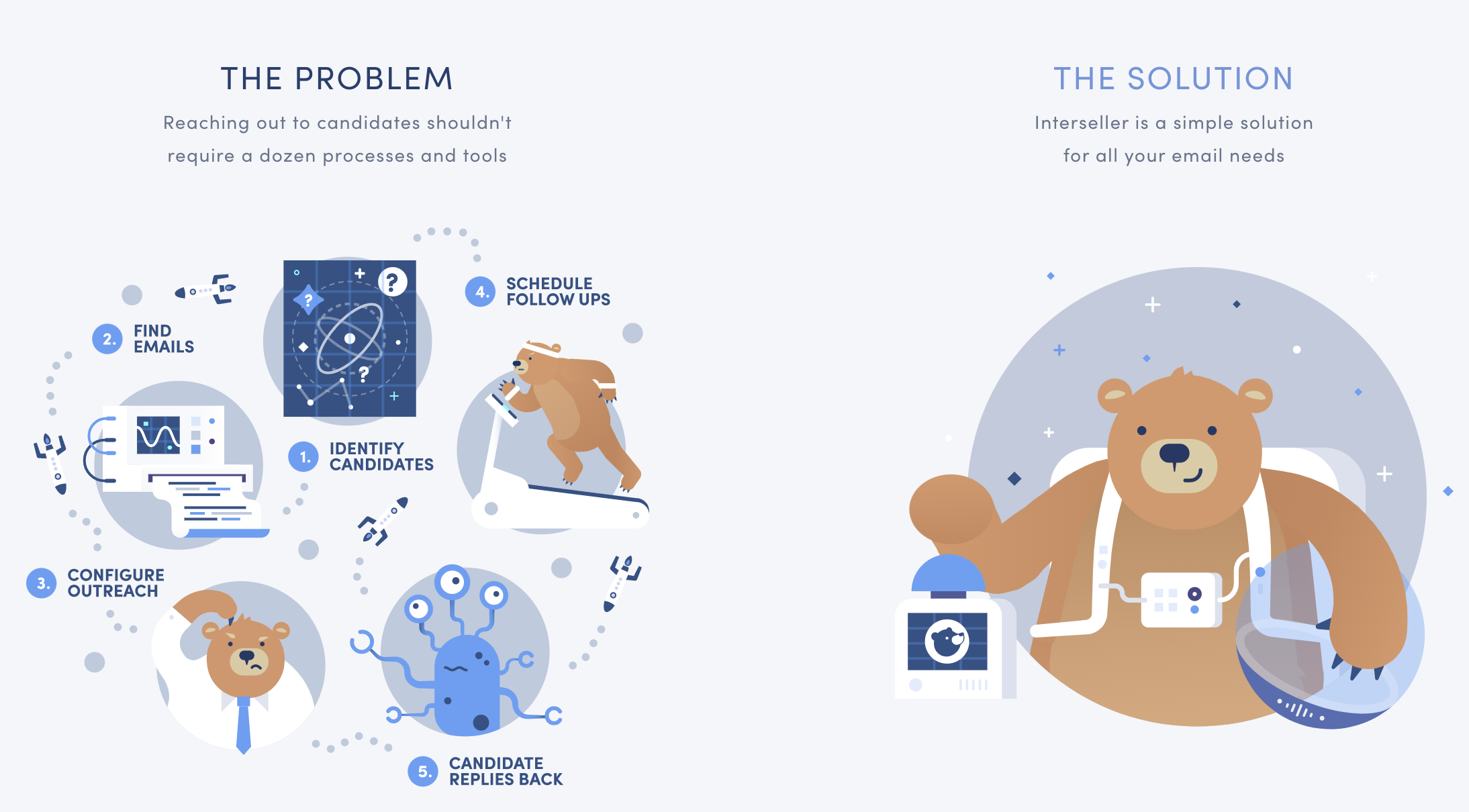 Interseller is probably the solution to your all business problems. Interseller's platform offers much more than just email extraction. It also includes features such as advanced email verification, automated email sequences, and integration with popular sales and CRM tools.
Interseller is mainly not an extraction tool, in fact, the extraction tool comes with the package, and it is part of an email outreach program.
Pros:
Offers integration with popular tools
Can request demo
Cons:
Does not offer team collaboration
Limited filters for searching emails
Pricey
Does not offer a free trial
Interseller review posted on G2:
"The sequencing tool is beneficial for following up with the messages we send to our prospects. It is very user-friendly and allows you to connect to your current CRM system, so everything gets updated on your records.
What do you dislike about Interseller?
I wish there were a way to write comments on the profiles, so it is easier to know their answers. For example, if a prospect's response is negative, I could mark them, so I don't message them again. This could also work by having lists where I can put all the contacts that respond negatively. I am currently moving them to a new sequence named DO NOT CONTACT."
Top features of Interseller;
Advanced email extractor and email verification
Advanced Reporting and Analytics
Email tracking
Automated email sequences
Users can set up customized email sequences and templates for different stages of the sales funnel, allowing for more personalized and effective outreach.
API
Integrating your chosen software with Interseller will be beneficial to you.
7) FindEmails.com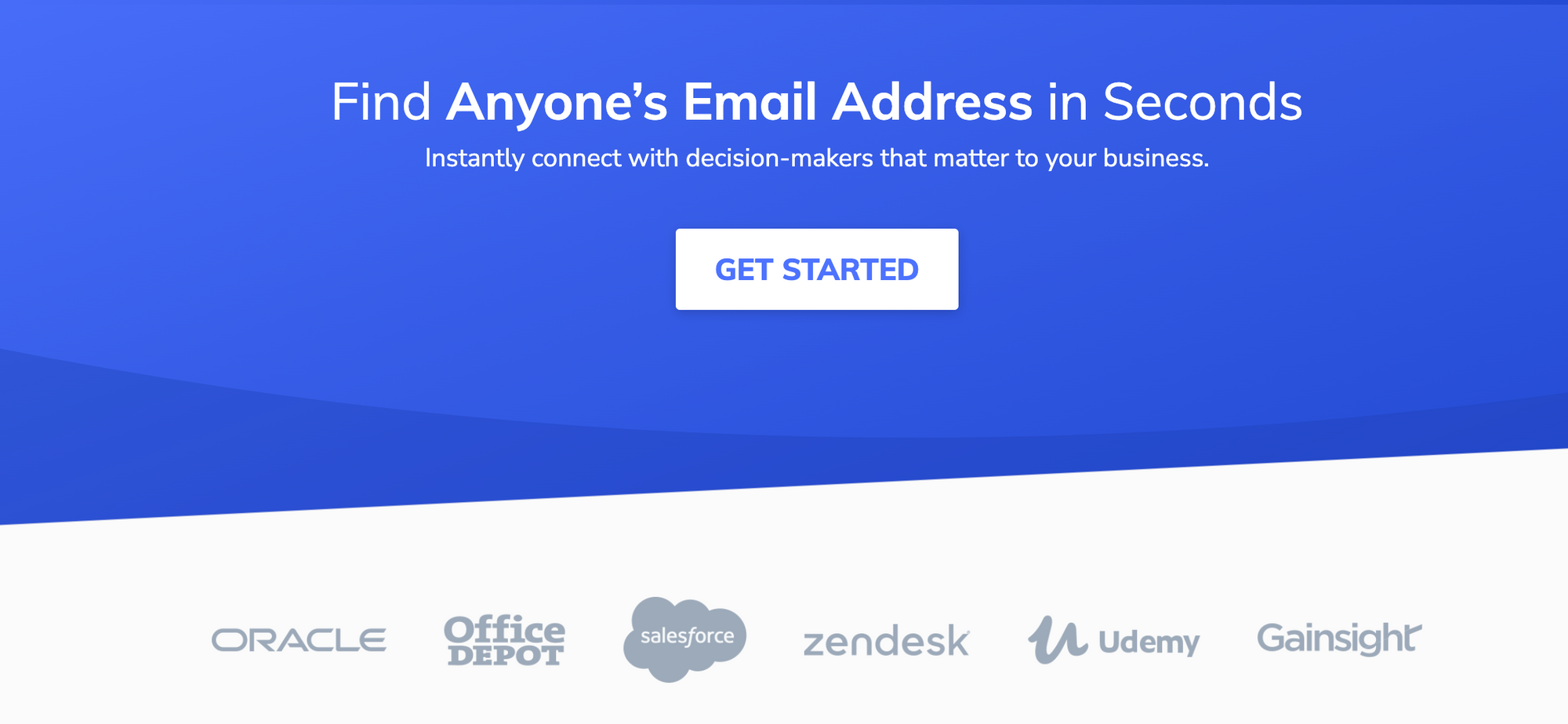 As you can tell from the very original and unique name of FindEmails.com, the tool is used for email extraction.
FindEmails.com offers a chrome extension and is mainly used for B2B lead generation and sales prospecting.  
FindEmail.com is trusted by big companies like Salesforce, Udemy, Oracle, and Office Depot. Let's look into the pros and cons so you can trust them too!
Pros:
Display names and contact information altogether
Easy research
Time-saving
Cost-effective
Free trial
Cons:
Can produce inaccurate data
Lack of LinkedIn integration
Customer service could improve
Review of FindEmails.com posted on G2:
"What do you like best about FindEmails.com?
It is a time saver. Displays names, contact info and everything togetherReview collected by and hosted on G2.com.
What do you dislike about FindEmails.com?
Customer service was slow at responding.Review collected by and hosted on G2.com.
What problems is FindEmails.com solving and how is that benefiting you?
Helping navigate emails easily"
Top features of FindEmail.com;
Accurate Email Verification
Easy Export and Download
Advanced Filters and Search Options
Targeted Search
Users can search for email addresses based on specific keywords, company names, or domains, allowing them to target specific industries or decision-makers.
8) Cute Web Mail Extractor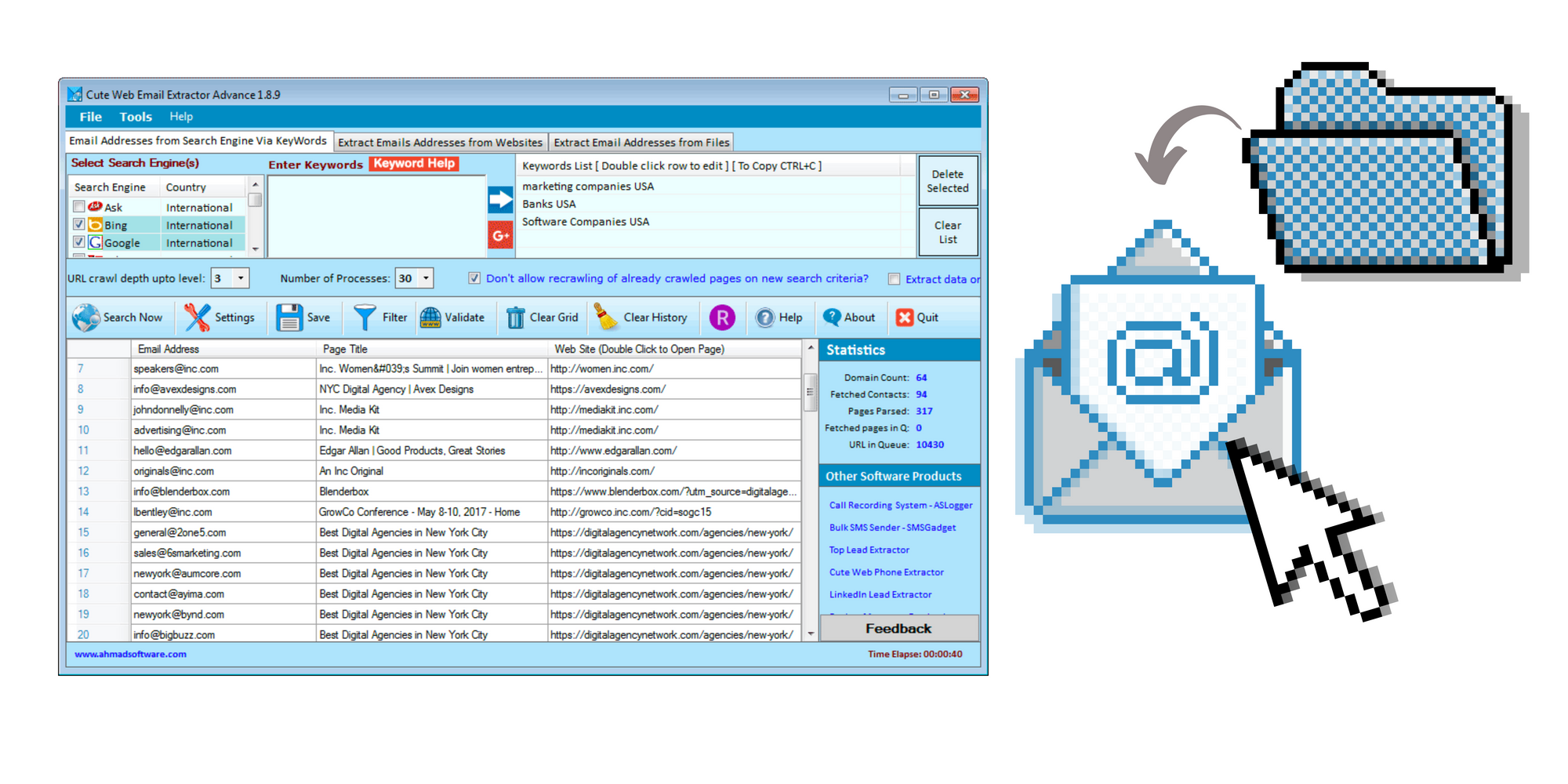 Despite the old-fashioned look, Cute Web Email Extractor is actually useful.
Gives you the chance to specify the URL depth for your searches. For instance, you can set a low number and quickly scan for emails on a website, or go for a higher number and search all the links to other pages from a website, although the latter takes considerably more time.
You can also count out certain websites and file extensions from your searches, by adding them to the filtering list of the program.
Pros:
Cons:
Sometimes inaccurate data
Review on Cute Web Mail Extractor:
"Cute Web Email Extractor Advance offers you an elegant way of finding emails on the Internet, by giving you the chance to specify the URL depth for your searches. For instance, you can set a low number and quickly scan for emails on a website, or go for a higher number and search all the links to other pages from a website, although the latter takes considerably more time."
Top features of Cute Web Mail Extractor;
Customizable Search Criteria
Multi-threading and Speed Optimization
Contact Verification
9) GrowMeOrganic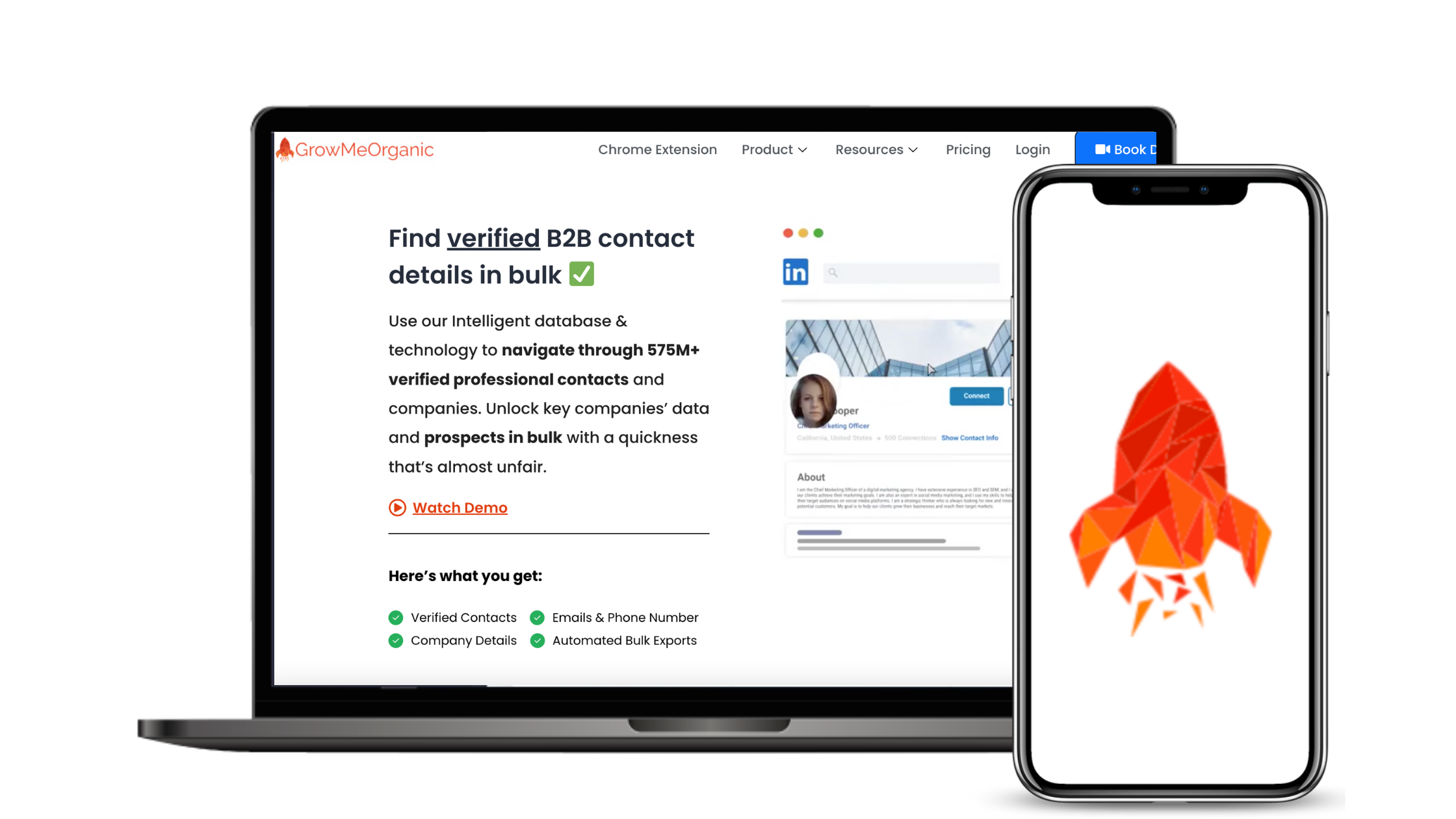 GrowMeOrganic is an all-in-one platform, that allows email extraction.
GrowMeOrganics provides a comprehensive solution for B2B prospecting and cold email outreach.
With all the necessary tools in one place, you can streamline your lead-generation process and effectively reach out to potential clients with personalized email campaigns.
Pros:
All-in-one platform
Accurate information
Large database
Cons:
Facebook and Twitter integration lack
Pricey
Late responses by customer service
Review of GrowMeOrganic on TrustPilot:
"Technical support with each of my appeals solved the problem within half an hour, the guys are always polite and pleasant in communication. The service itself is not without glitches, but they are rare and clearly far inferior to the capabilities it provides.

I recommend it to everyone who works with the automation of mailings and searches for contacts for the leadgen."
Top features of GrowMeOrganic;
Drip Campaigns
LinkedIn Integration
GrowMeOrganic offers LinkedIn integration and chrome extension. With these tools, you can search and find any LinkedIn account whether it's a paid or free account.
B2B Data Enrichment
Finds contacts from any industry, enhances marketing efforts, and finds accurate information on people you search for.
GMB Extractor
GrowMeOrganic's GMB (Google MyBusiness Extractor) extractor is a powerful tool that enables users to extract contact details of local businesses from Google Maps.
10) Botster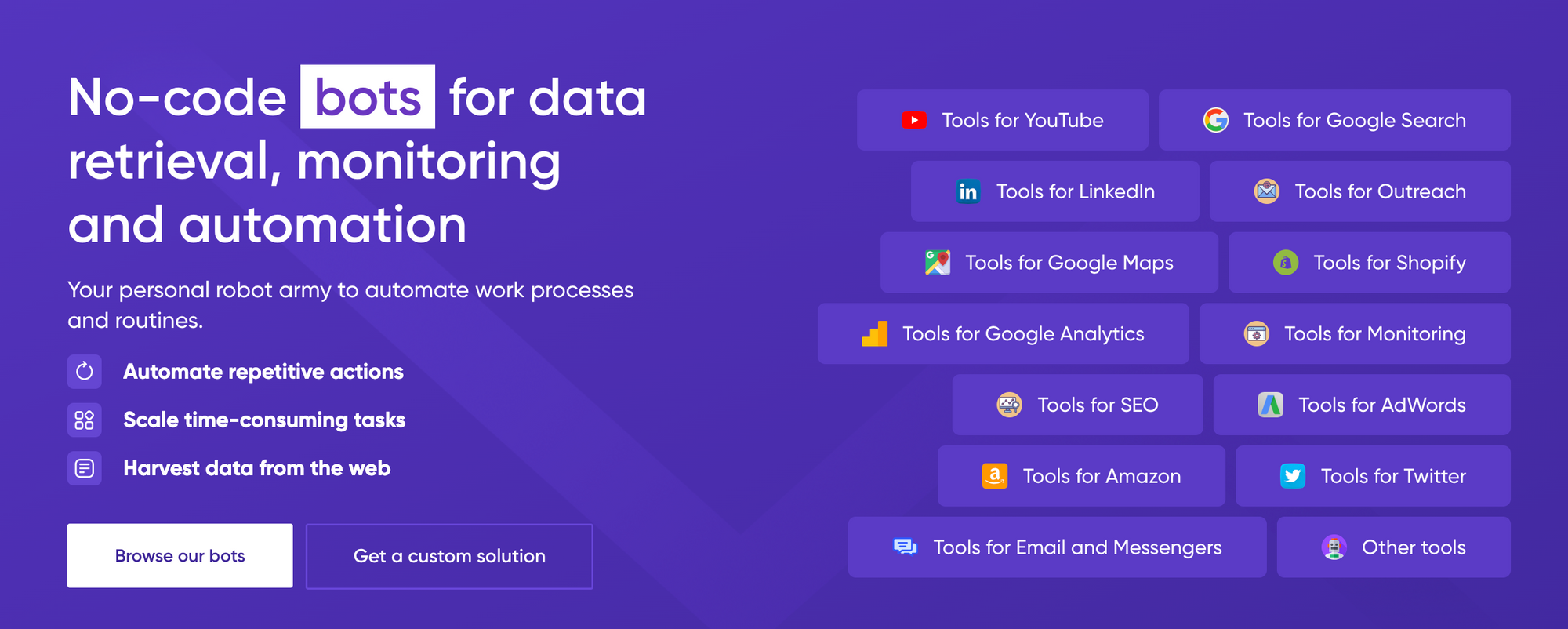 Botster can be likened to a powerful tool that unlocks many possibilities, much like the "motherload" cheat code in the popular game Sims.
You can do literally ANYTHING!
It's your personal robot army, you can use the email validator, and finder and then later use monitoring bots to see how you are doing and analyze your performance.
Pros:
Saves time
Can harvest data from all over
All-in-one tool
Zero-code solutions
Flexible payment plans
Cons:
You have to figure out how to use it (through the videos provided)
Lacks human touch
Since there are no available reviews on Botster, we recommend you watch Botster's videos on how to use it to get a good idea of how the platform works. And who knows maybe you will be the first one to comment!
Top features of Botster;
Customizable search criteria
Automatic data extraction
Botster uses AI to extract data. That way you can get the information you need without spending time.
Data quality and accuracy
Botster provides accurate data, with consistent updates.
Integrations
Botster integrates with nearly everything. The platform offers various tools that can benefit B2B and B2C marketers and recruiters. You don't have to switch platforms -and since it integrates with various popular platforms- your job get easier!
11) Discover.ly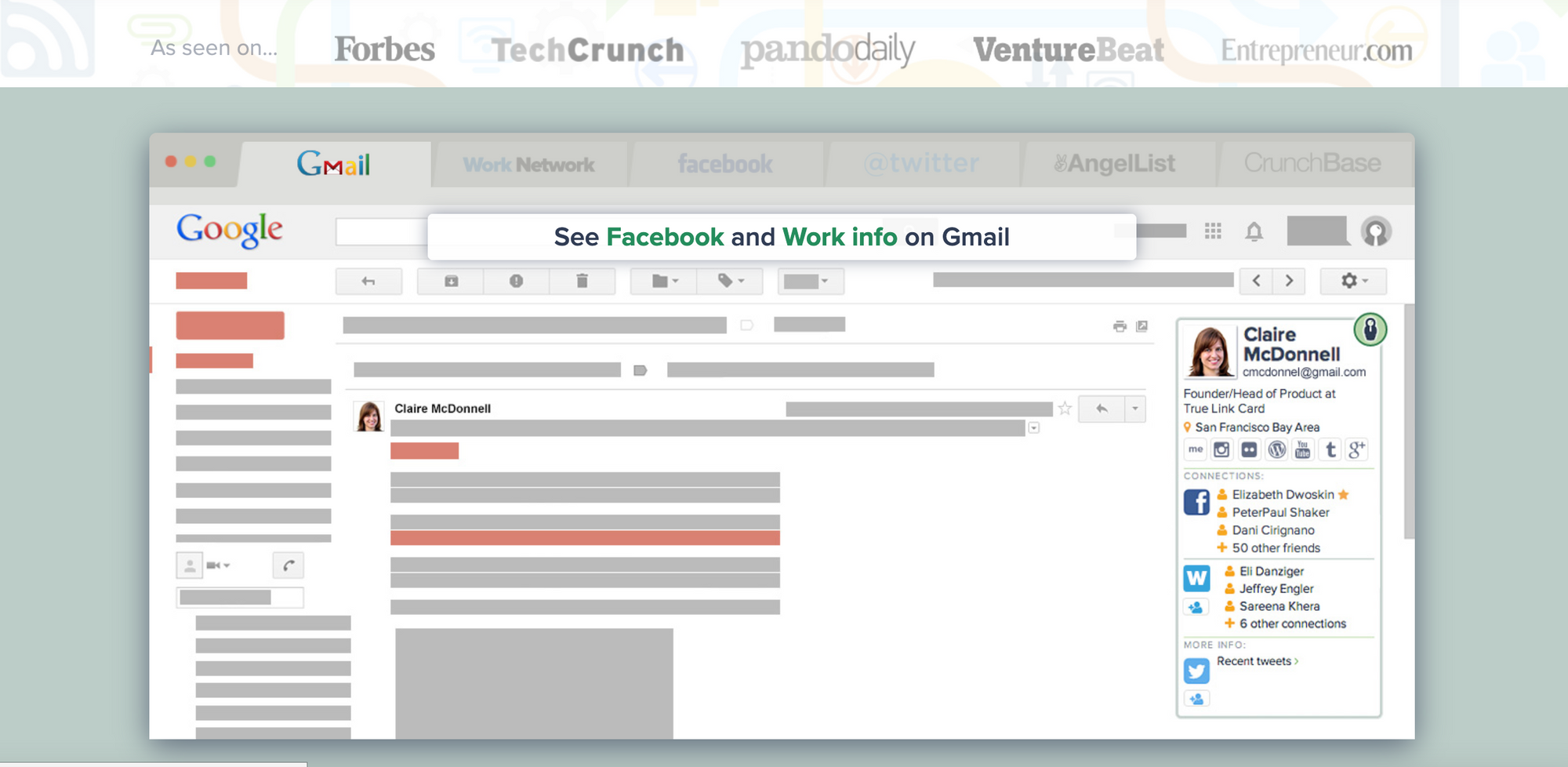 Credited highly by Forbes, TechCrunch, and Entrepreneur.com, Discover.ly is a browser plug-in that allows users to find social media information.
Discover.ly integrates with Gmail, LinkedIn, Facebook, and Twitter. You can find relevant information about people you want to connect with.
Pros:
Integration with almost anything
Free to use
Quick
Simple and efficient
Cons:
Old-fashioned designs
Inaccurate data from time to time
🚨
Discover.ly has currently zero reviews. They are free of charge yes, however to use more features you could upgrade your account. Now they don't have pricing plans and upgrade button does not work.
Shoot your shot, you never know what is going to happen discover Discover.ly!
Top features of Discover.ly;
Finding Information
Yes, finding emails and social media profiles is what every other data scraper does. However, what is so cool about Discover.ly is, that it can find information connected to users' mail accounts in real time. Cold emails come and go, ever wondered about who is behind them? Now you can find out!
Twitter
Shows LinkedIn info, mutual connections from Facebook and LinkedIn.
Facebook
Shows LinkedIn info, mutual connections, and tweets.
Gmail
Shows contacts' work info, mutual connections, and tweets.
LinkedIn
Shows when you have mutual Facebook friends and tweets.
Save discovered contacts
12) AtomPark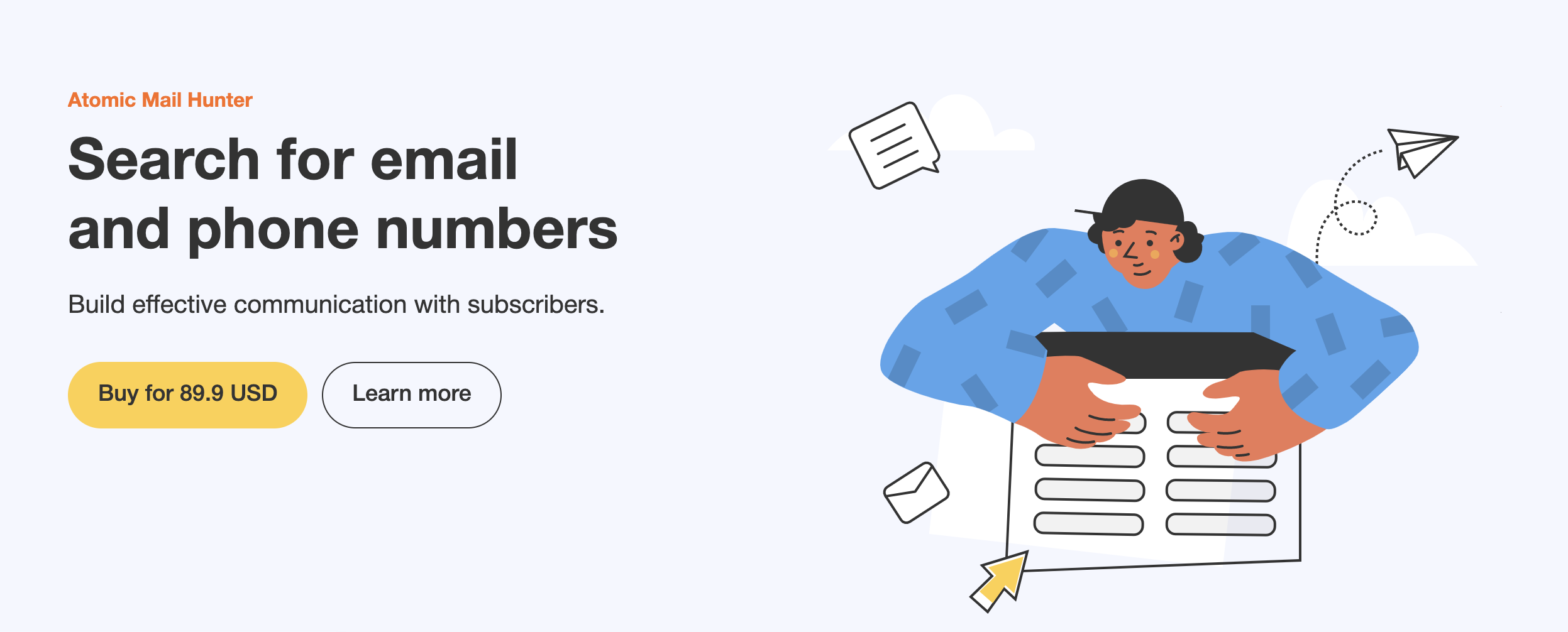 AtomPark contains three important features; email finder, email validator, and email sender.
AtomPark is designed to help businesses manage their email marketing campaigns, build and verify email lists, and improve their email deliverability.
AtomPark also offers SMS marketing software and other communication tools for businesses.
Pros:
Customazible
Afforable
Good customer service
Cons:
Hard to learn
Old fashioned designs
Review of AtomPark on TrustPilot:
"Great! I just recently started using mass mailings and I'm very happy that I found this software. I've used it to build my own email database. By the way, I have already sent out a couple of mass emails and they have been successful."
Top features of AtomPark;
Automatic responds
List management
Email verifier
Email editor

13) UpLead

Uplead is a B2B lead generator tool, that also contains email finder tool.
Pros:
Simple and easy to use
Great customer service
Cons:
Expensive (but worth it!)
Leads are mostly from the USA, if you are looking to go global it may not be for you
Minor but annoying bugs
"Uplead is very straightforward to use. It allows you to create a filtered view of leads based on the industry, job title (including particular ones), company, region. It saves a lot of time of mine by providing the exact leads I'm looking for. The quality of the leads is pretty accurate, and it is about as high as I have found to be the case with much more expensive systems. So, I'm happy with the percentage of the accuracy. The email verification system is impressive. My whole team likes it."
Top features of UpLead;
Real-time email verification
Before sending out emails you can verify email addresses in just seconds.
Team collab!
Finally, a team collab tool that is efficient and effective. With this tool, you can communicate with your team in no time. Pass leads and send out emails quickly.
Lead recommendations
Lead recommendation can be the top feature of UpLead. It recommends you leads that may or are related to your business based on search history.
14) AnyMail Finder

AnyMail Finder, is an email finder that helps businesses find and verify email addresses for their sales and marketing campaign.
AnyMail Finder uses variety of resources to verify mail addresses and they only charge for emails that have 97% of accuracy. Which makes them a good tool for email address accuracy.
We only charge for emails that have
an average deliverability of over 97%.
Pros:
High accuracy
Ease of use
Free trial
Cons:
A credit system is not efficient for occasional users
🗂️
Users of AnyMail Finder have differing views regarding the credit system. Some like it, some don't. Occasional users don't want that much credit, it's a larger number than they can use, and they -understandably- don't want to pay that much money for a thing they didn't use. Also, you can't really collect credits, unused credits disappear after 30 days.
AnyMail Finder review on Capterra:
"Overall: I choose Anymail Finder over: Hunter.io Snov.io ZoomInfo Lead.iq There are so many competitors but I only choose one: AMF
Pros: - easy to use - great founder who constantly supports clients - efficient
Cons: The biggest downfall is expiration of credits.."
Top features of AnyMail Finder;
Allows search in Bulk
Accurate email addresses
Domain Search
15) Finder.io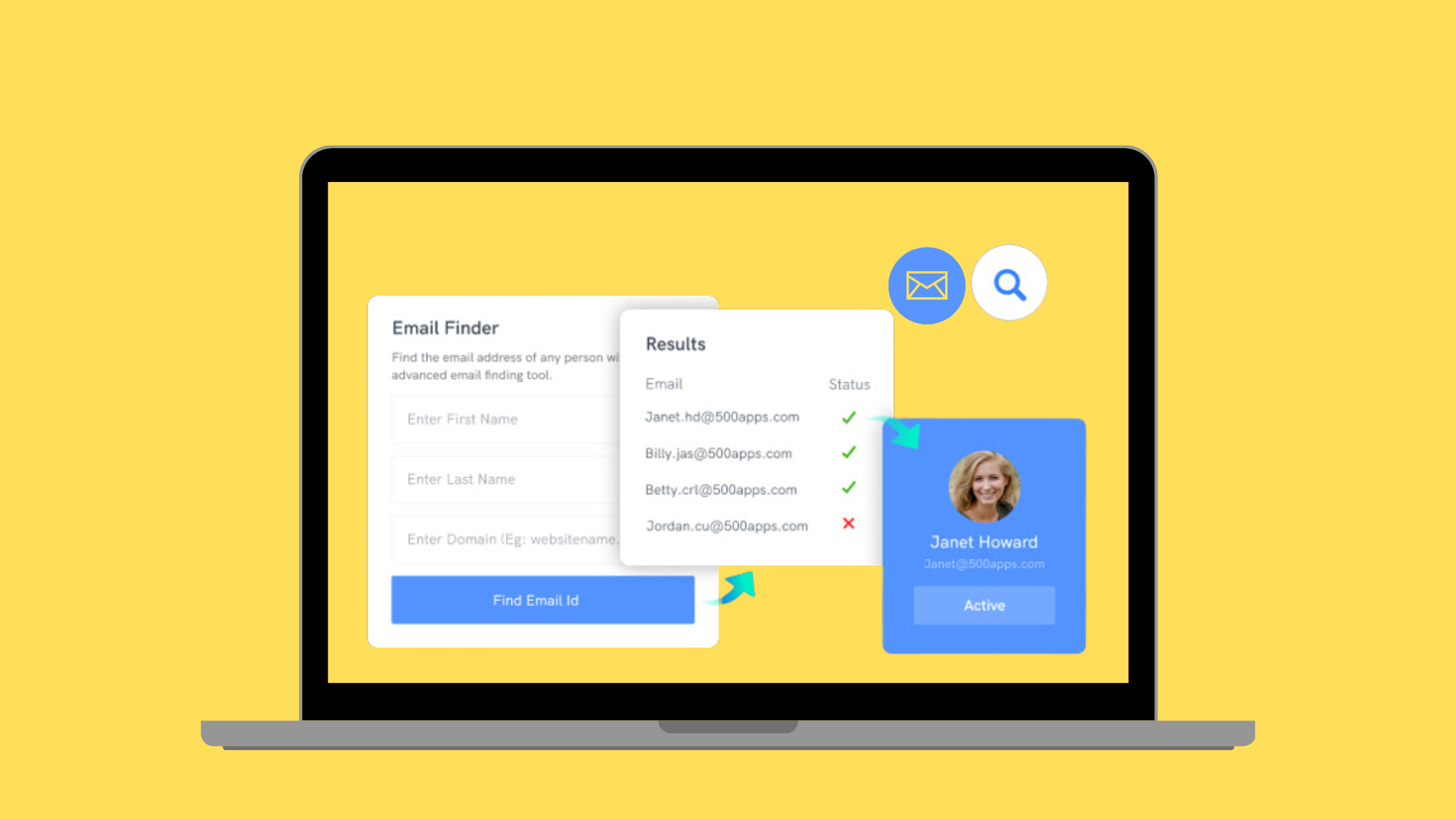 Finder.io is an affordable email finder platform that is mainly used by; nonprofit organizations, small businesses, and startups.
It contains everything you can imagine with no more than 9 dollars. Check out Finder.io to improve your business while saving money!
Pros:
Affordable prices
24/7 customer support
Cons:
Bugs
Can be inaccurate from time to time
Review on Finder.io, on Capterra:
"Pros: Bulk work could be done in an easy way,
Cons: Nothing as of now, goo apps, al the best"
Top features of Finder.io;
Bulk email verification
API
Integration
Disposable email address identification
Disposable email detection refers to the process of identifying disposable or temporary email addresses that are created by users for short-term use, often for the purpose of receiving verification emails or signing up for services without revealing their actual email address.
16) Skrapp Email Finder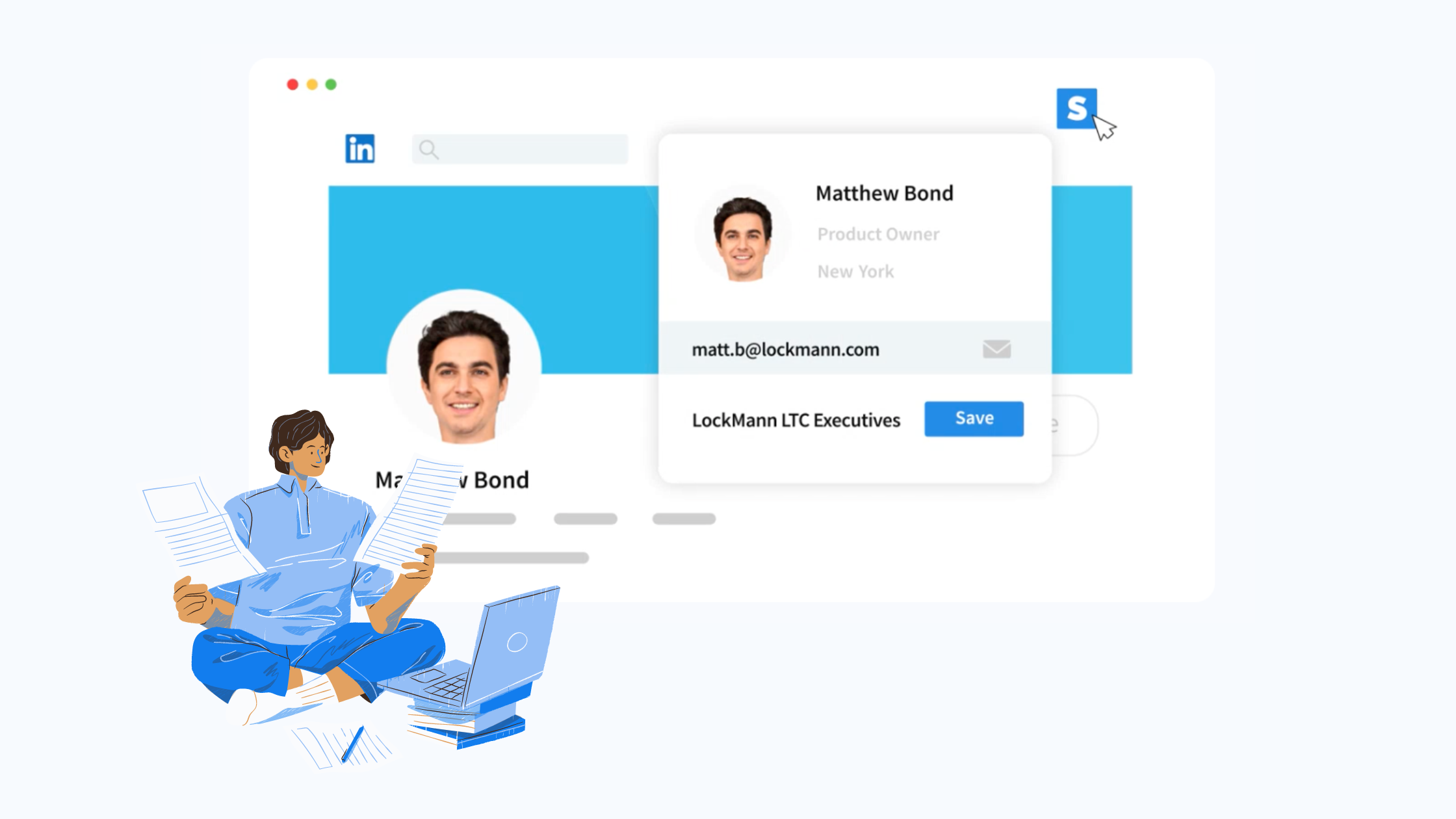 Although the platform is especially useful for young firms that are just beginning to gather leads, it also offers major advantages to established organizations that want to expand their operations and attract more clients.
Skrapp email extractor offers a LinkedIn and chrome extension.
Pros:
Intuitive UI
Affordable prices
Great customer support
Useful features
Cons:
Inaccurate data from time to time
More features
💭
Yes, not a con, for now! But long-time users are wanting more features from Skrapp. So if your only goal is to get email addresses Skrapp might be for you, but if not...You should see other people.
"Skrapp.io is a tool that provides a variety of features for email outreach and lead generation.
powerful email finder that helps users find and verify email addresses for their target audience. This can be especially useful for businesses and marketers looking to reach out to potential customers or clients."
Top features of Skrapp;
LinkedIn integration
API
Chrome extension
Bulk email verification
New feature for you to get your hands on to! Try Skrapp's email verification tool.
Here is a comparison table for you to see each feature individually.
| | | | | | | |
| --- | --- | --- | --- | --- | --- | --- |
| Tool Name | Email Lookup | Email Verifier | Email Sending | Domain Search | LinkedIn Search | Price (per month) |
| Hunter.io | Yes | Yes | No | Yes | No | Starting at $49 |
| Snov.io | Yes | Yes | Yes | Yes | Yes | Starting at $33 |
| FindThatLead | Yes | Yes | Yes | Yes | Yes | Starting at $49 |
| Anymail finder | Yes | Yes | No | No | No | Starting at $49 |
| Cute Web Email Extractor | Yes | No | No | Yes | No | $59.99 (lifetime) |
| Skrapp | Yes | No | No | Yes | Yes | Starting at $49 |
| ContactOut | Yes | Yes | No | No | Yes | Starting at $49 |
| AeroLeads | Yes | Yes | No | Yes | No | Starting at $49 |
| Interseller | Yes | Yes | Yes | Yes | Yes | Custom |
| FindEmails.com | Yes | Yes | No | Yes | No | Starting at $29 |
| GrowMeOrganic | Yes | No | No | No | No | Starting at $19.99 |
| Botster | Yes | No | No | Yes | No | Starting at $39 |
| Discover.ly | No | No | No | No | Yes | Starting at $29 |
| AtomPark | Yes | Yes | Yes | Yes | No | Starting at $79 |
| Uplead | Yes | Yes | No | Yes | No | Starting at $99 |
| Finder.io | Yes | No | No | Yes | No | Starting at $79 |
The table can give you an overview of the features and pricing that each tool offers. By doing this, you may choose the tool that best suits your needs and make a better-educated selection.
However, it's important to keep in mind that choosing the finest tool for your unique needs demands more than just glancing at a table while comparing and evaluating various email extractor software.
💭
When choosing a particular tool, it's crucial to thoroughly evaluate your personal requirements and preferences. Also, pricing can change so be sure to look at them before making a decision.
How to Choose the Right Email Extractor Tool?
Struggling to find the right email extractor for you or your business? You have come to the right place! We will narrow down what you should essentially look for in an email extractor in 7 steps.
1) It is essential to choose an email extractor tool that is user-friendly, allowing beginners to use it with ease and without encountering significant difficulties.
2) You should identify your price range and select accordingly. Plan a payment plan and determine how much can you invest without being in the danger zone.
💸
Expensive email extractor tools can look appealing however, lower-priced ones could do the task just fine if it meets your requirements.
3) Define why you need it. Write down your goals and look at the email extractor tools provided above with those needs in mind.
4) Check if the email extractor tool you chose follows GDPR and CCPA guidelines. Better safe than sorry!
5) Make sure to select an email extractor tool that is efficient and can handle a large number of emails in a short time to save you time.
6) Choose an email extractor tool that can identify email addresses linked to inactive and invalid domains.
7) The email extractor tool should be capable of verifying the authenticity of different email addresses in order to improve the delivery and response rates.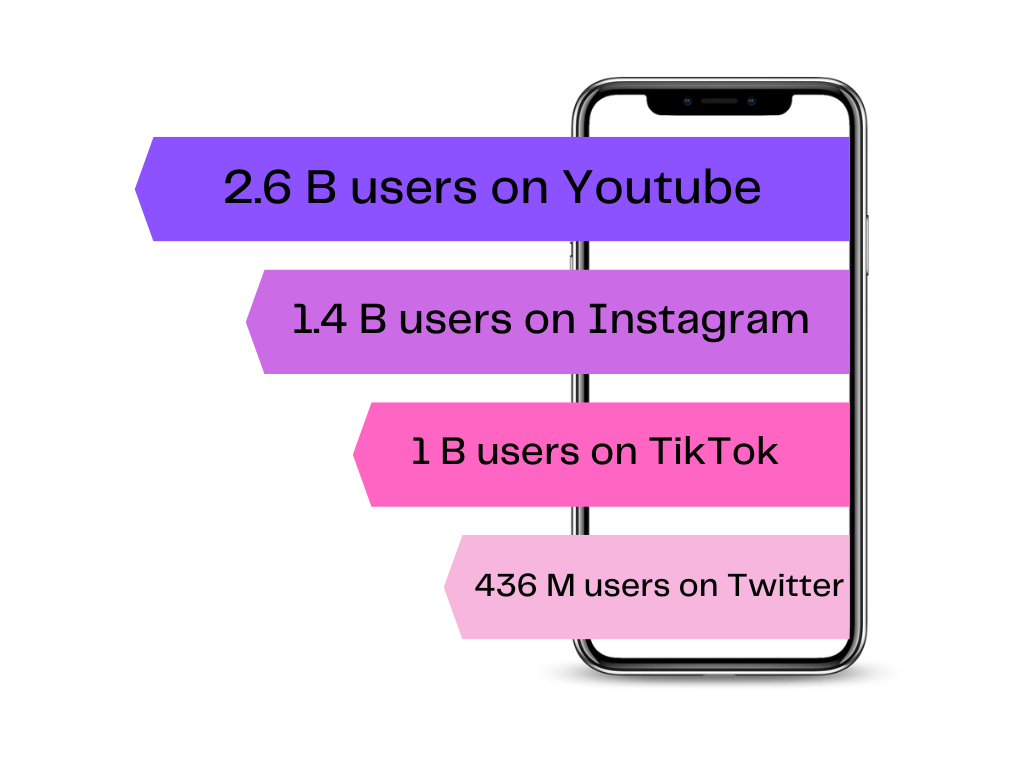 Is Email Extractor Legal?
Email extraction can be used for useful and harmless projects such as promoting your campaigns, reaching out to people who matter, and generating leads!
However, it is crucial to emphasize that email extraction should only be employed for legitimate purposes.
Unethical activities
Spamming
🚨
Private data, personal information, and identity theft.
These are going to get you in trouble. You can get banned from social media services for using email extractors for illegal purposes.
What is the reaction of social media platforms to the use of email extractors for illegal purposes?
💬
You can use email extractor tools for extracting contact information from LinkedIn, Instagram, Facebook, and websites. Email address extraction is very easy since it requires one account and a quick trip to the website you would like to extract data from.
However, as easy as it is to extract email addresses it is equally easy to get banned from these social media platforms. Let's look at their policies, in case!
LinkedIn policies are strict on the issue. Using LinkedIn email extractors for spamming will get you banned for life. Read LinkedIn privacy policies here.
On Instagram, there are a large number of fake or bot accounts that are used to advertise businesses. Such accounts may be generated using data scraped from actual users, raising the possibility of account duplication or the gathering of personally identifiable data.
You won't get banned, if;
Your scraping activities do not harm the scraped website, such as using scraped data to duplicate or damage the website's service and operation. You do not gather personally identifiable data (PII).
Read Instagram's policy here for more detail.
According to TikTok, scraping public data is bad news. It's hard to scrap data, and they make it harder for you with TikTok's privacy policies. Read TikTok's policies.
Facebook has stricter policies compared to others. If you are caught using it for spamming or locating personal information, it considers your behavior as unethical and illegal, which can not only lead to a possible platform ban but also to a lawsuit.  
Facebook has an EDM team to find illegal scrapping. So be sure to read Facebook's policies on web scrapping.
The legality of email extractor platforms varies depending on their location and usage. However, don't let their varying legal status intimidate you! When used for legitimate purposes, they can enhance your marketing campaigns.
Conclusion
In conclusion, email extractors are powerful tools that can be of great benefit to businesses, sales professionals, marketers, and job seekers. With the ability to quickly and efficiently collect and organize email addresses from various sources, email extractors save time and effort and provide valuable insights into consumer behavior and preferences.
It is essential to choose the right email extractor tool that is user-friendly, efficient and follows GDPR and CCPA guidelines. It is also crucial to use email extractors only for legitimate purposes and to avoid unethical activities and spamming, which can result in severe consequences, including account bans and legal actions.
Best email extractors in 2023 include; Hunter.io, FindThatLead, Snov.io, AnyMail Finder, Skrapp, Cute Web Mail Extractor, AtomPark, Discover.ly, UpLead, Finder.io, Botster, GrowMeOrganic, Interseller, ContactOut, FindEmails.com, and AeroLeads.
By utilizing email extractors responsibly and effectively, individuals and businesses can enhance their marketing and recruitment efforts and gain a competitive advantage in their respective industries.
What is an email extractor?
An email extractor is a software tool used to extract email addresses from internet datasets, including websites, social media platforms, directories, and other online databases.
What are the best email extractor platforms?
Best email extractors are Atompark, ContactOut, Cute Web Mail Extractor, FindEmails.com, Find.io, Hunter.io, AeroLeads, Snov.io, Skrapp, UpLead, AnyMail Finder, Discover.ly, Interseller, Botster, GrowMeOrganic, and FindThatLead.
What are the benefits of using an email extractor tool?
Email extractors can benefit you by saving time and effort when collecting email addresses for marketing or other purposes. It can also help ensure that email addresses are collected accurately and efficiently.
How do I use an email extractor tool?
Generally, you will need to input the source from which you want to extract email addresses, such as a website URL or a file, and then select the specific criteria for the email addresses you want to extract. Once the tool has finished processing the source, it will generate a list of email addresses that you can export or save.
Are there any legal or ethical concerns with using email extractor tools?
Yes, there are potential legal and ethical concerns with using email extractor tools, particularly if the emails are being collected without consent or in violation of privacy laws. It is important to ensure that you are using email extractor tools in compliance with applicable laws and regulations and that you are obtaining email addresses in an ethical and respectful manner.