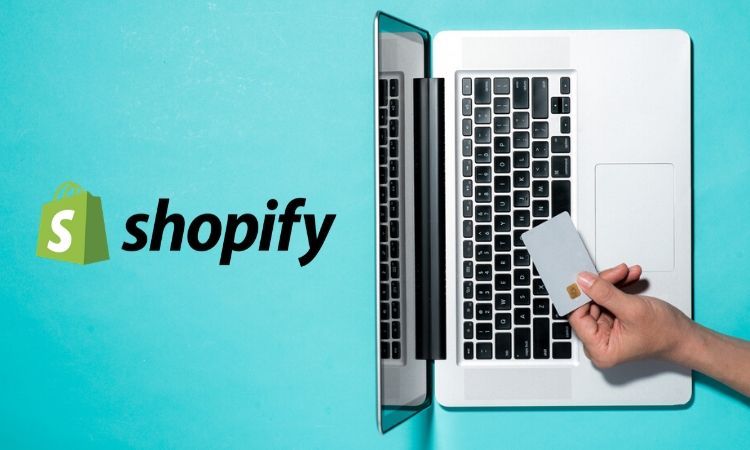 You may know very well what Shopify is and how it works, or at least it will sound familiar to you, but what you may not be so clear about is its history. And that's why we are here 😉

What is Shopify: the origin
This CMS was founded a few years ago, specifically in 2004 by Tobias Lütke, Daniel Weinand and Scott Lago after an attempt to open an online store for Snowboard called Snowdevil. And we say "try" because in the first instance they were not able to find any e-commerce product that met the needs that their store demanded.
Perhaps it would be easier to build your own software? Said and done! Luke, a computer programmer, built his own online product sales software to get Snowdevil's online store up and running after a couple of months of development.
Shopify was founded in 2004 but the launch of the platform took place two years later, in 2006. In June 2009, Shopify launched an App Store and Platform API. From then on, the growth was unstoppable.
In 2007 it was a finalist in the CNET Webware Awards and, from 2010 to 2012, it expanded its staff from 40 people to 140 and then continued to expand to 300 in 2013. In 2020 it reached 5,000 employees in 17 offices spread over twelve countries. Two million sellers already use Shopify around the world, of which 25,000 businesses are in Spain and 60,000 in Latin America.
2020, the year of the Shopify boom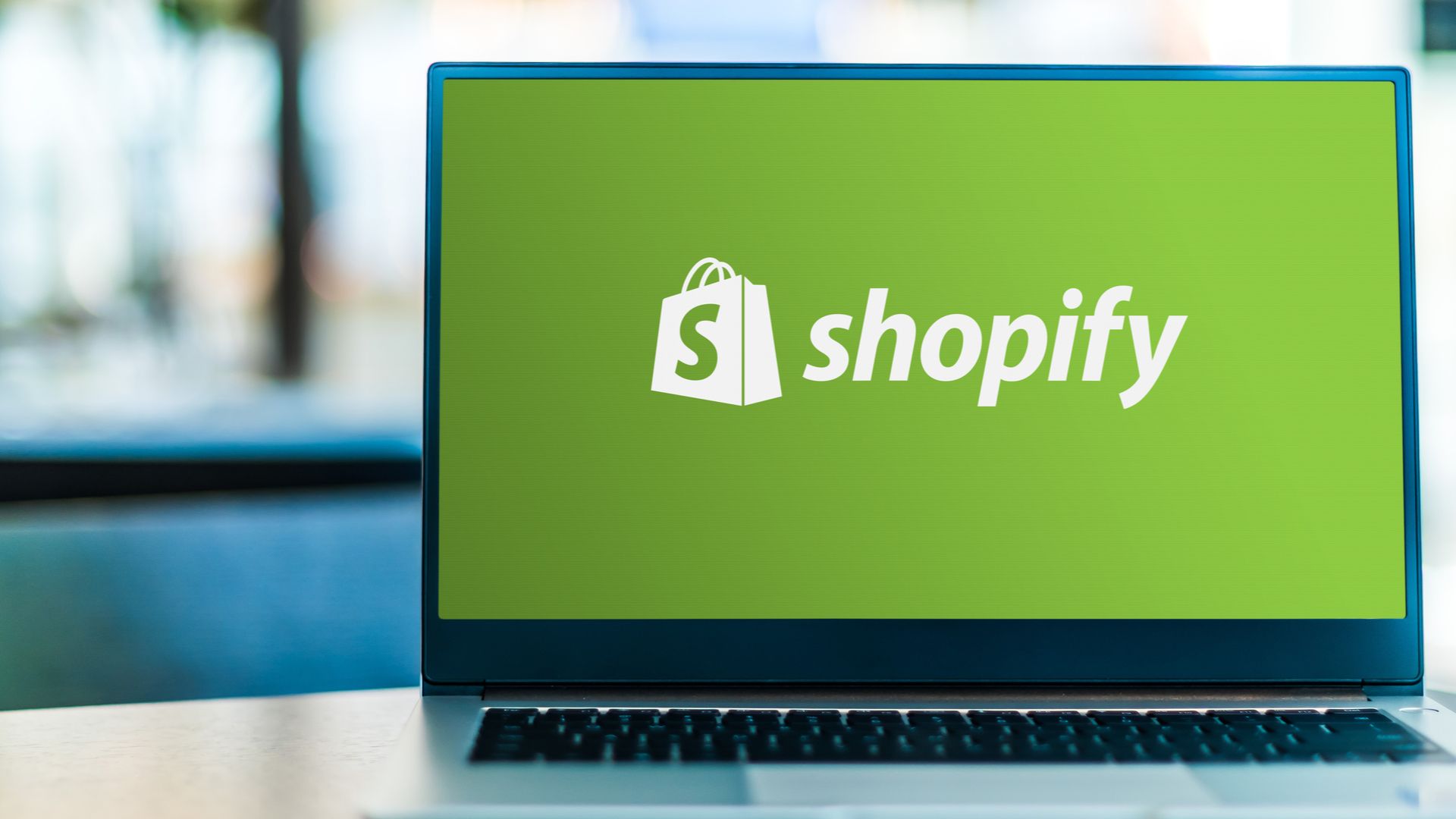 According to the information offered by the company, its total income during 2020 was $2,929.5 million, around 2,422 million euros, which represents a year-on-year growth of 86%. This growth is broken down into an increase in revenue from subscriptions of 41%, and 116% from commercial solutions.
Another aspect that showed incredible growth was its GMV, or gross sales value: this indicator refers to the value of all the products sold on the platform, without taking discounts into account. For example: if 10 pairs of shoes are sold at €25, the sales value will be €250, despite the fact that some of the shoes have been sold for less due to the incorporation of discounts or promotions in the purchase.
That said, the increase in Shopify's GMV was 96% compared to 2019. This is a net sales revenue of $119.6 billion, approximately €98.887 million. Of this, 45% were processed through Shopify's own payment platform.
On the other hand, the annual gross profit registered an increase of 78%, together with a net profit of $319.5 million, around 263 million euros. With this, it also presented an operating income of 3%, compared to a 9% loss presented in 2019.
During 2020 Shopify surpassed eBay in revenue, so in its continued growth it is already beginning to approach Jeff Bezos's giant. By 2018, the value of Shopify sales accounted for only 25% of the results of the Amazon marketplace. By 2019 this proportion became 30%, to finally reach 40% of the GMV of the marketplace in 2020.
2021, the advance of Shopify is unstoppable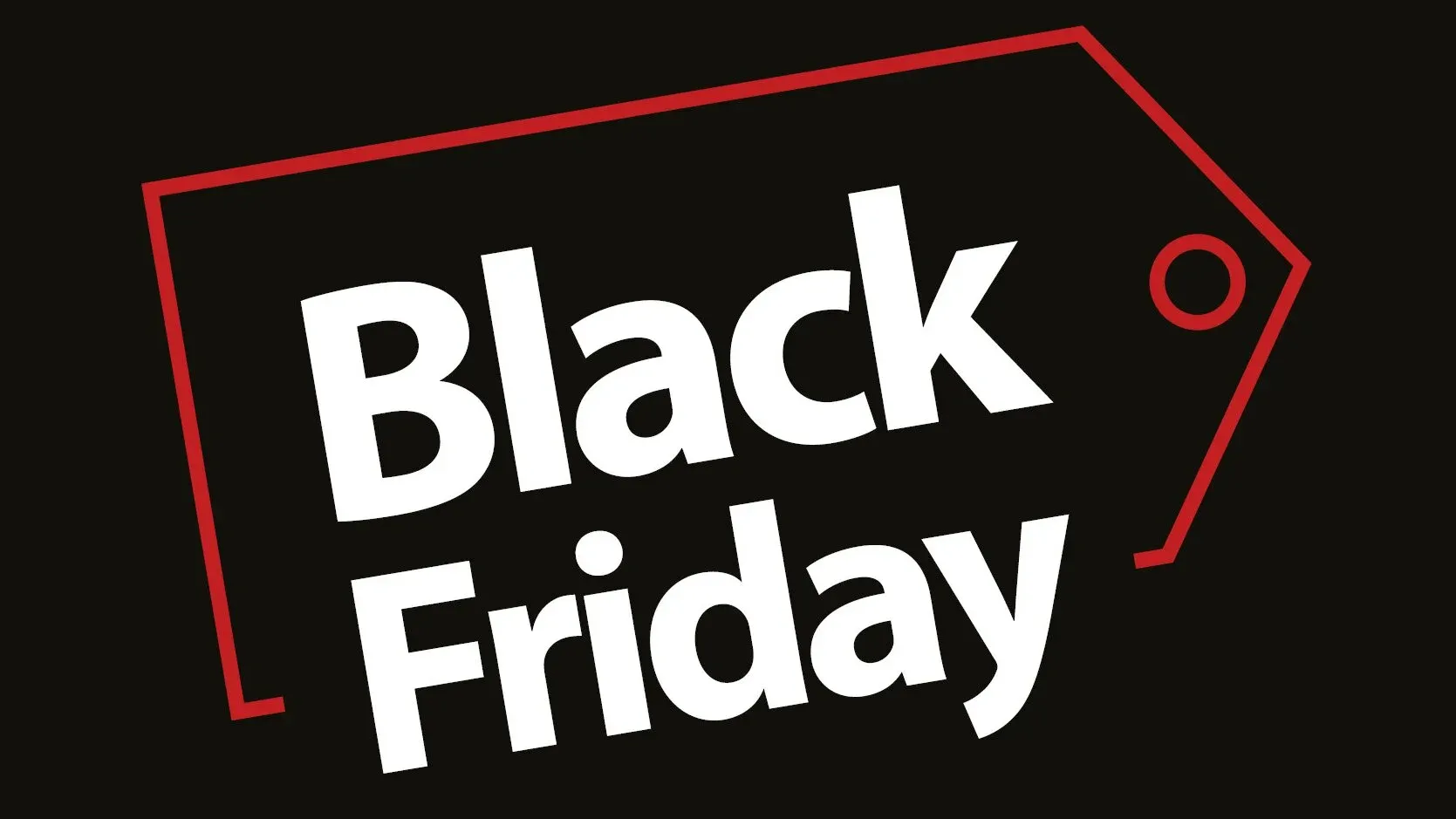 Shopify user businesses in Spain experienced an increase in sales during the period of time between Black Friday and Cyber ​​Monday of 2021 , compared to the data of the previous year, the average price of the shopping cart rose from 59, €52 from 2020 to €71.64 . Most of these purchases, 68%, were made from shoppers' mobile devices, while the remaining 32% were made by computer, which confirms the growing trend of using mobile phones to carry out these actions.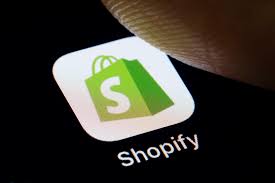 On the other hand, cross-border trade also stood out during this campaign , since 29% of the orders corresponded to this characteristic, the most frequent combinations being: Spain-Germany, Spain-Italy and Spain- France . Shopify is aware of the opportunities of breaking down territorial barriers, an example of this is Shopify Markets , a tool launched at the end of 2021 that seeks to support and promote the internationalization of small online businesses. Sellers can easily sell their products anywhere in the world through a centralized hub, and it will also be possible for them to manage from the same place what products, at what prices, in what currencies and with what payment methods to sell in each market .
Peaks such as the one experienced during Black Friday and Cyber ​​Monday are neither just an isolated case of success in Spain nor much less punctual, since as a study by Marketplace Pulse revealed , in 2021 the total sales volume of platform sellers reached 175,000 million dollars (about 154,000 million euros). This would be equivalent to 45% of the sales volume of the Amazon marketplace for an entire year. Analyzing this trend, if Shopify continues to grow in the same way, there will be few years in which it reaches the same level as Amazon (at least, in the part that corresponds to its marketplace), and it is that during the last years sales from its users, as a group, have shown faster growth than those from Amazon's third-party sellers . However, this is not necessarily a competition for the eCommerce titan, rather it presents a possible new approach due to the differences in their platforms.
2022: Shopify takes over Deliverr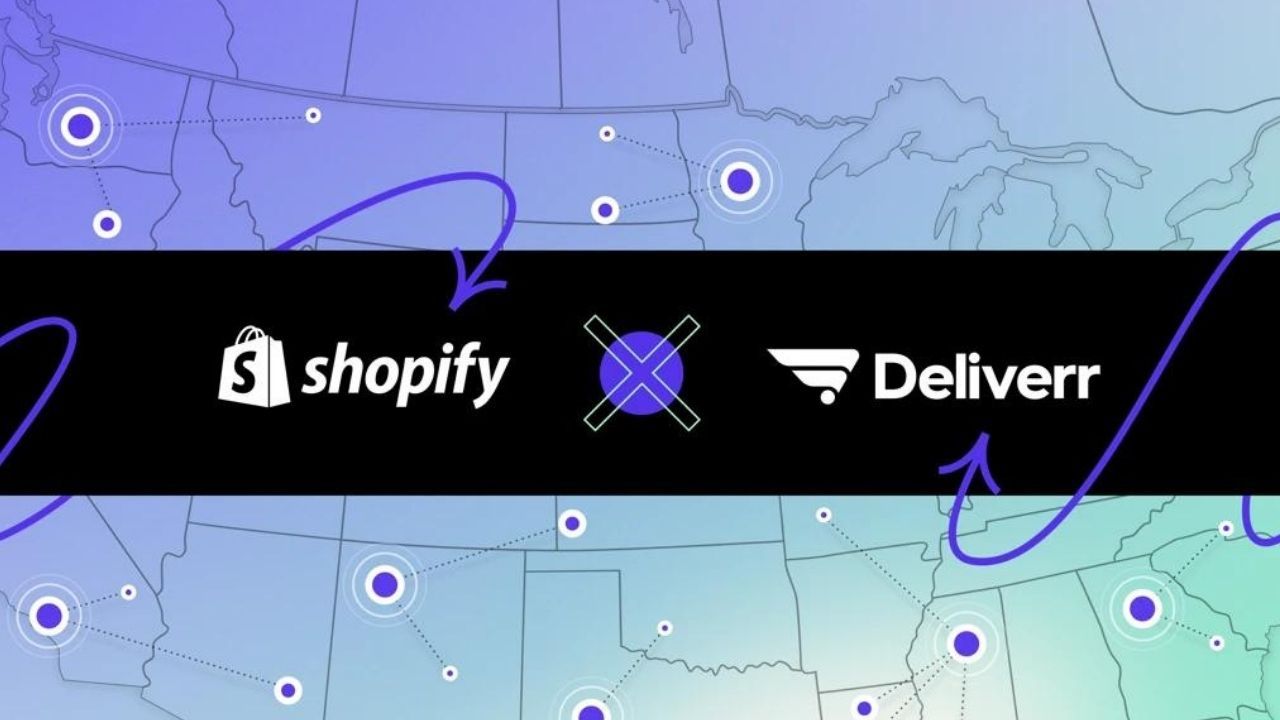 $2.1 billion (€2 billion) was the amount Shopify paid to acquire Deliverr , the e-commerce fulfillment provider whose intelligent system can predict places consumers might be interested in purchase products . This technology makes it possible to "pre-position" items in your warehouses according to that estimate of demand.
This has become the highest value purchase made by Shopify to date, an operation with which they hope to obtain great results and boost the activity of their users. As stated by Tobi Lütke, Founder and CEO of Shopify, " With Deliverr, Shopify's fulfillment service will give millions of growing businesses access to a simple and powerful logistics platform , enabling them to make their customers happy again and again. " ».
The merger between Deliverr and the " Shopify Fulfillment Network " (SFN) service, which already allows sellers to store their inventory and ship their orders, will bring new features such as improved inventory management capabilities, or the Shop Promise . The latter is a new service that will provide deliveries in one day and in two to customers and that, in addition, includes more options for storage, transport, inventory preparation or returns.
Strengthen the last mile strategy, an obligatory step to face Amazon
The importance of speed in order management and delivery is increasing more and more, and in 2021, 41% of consumers were willing to pay more money for a shipment if it was delivered on the same day, according to a PwC survey . Several companies, including Amazon, have been quick to start offering express delivery services, and Shopify hasn't wanted to be left behind.
With the Deliverr integration, Shopify will take your last-mile strategy to the next level and complement the tools for your sellers.
The Shopify Effect
Shopify's philosophy is based on the idea that the world is better the more independent businesses there are in it , since they are an important driver of the economy. In addition to representing an extensive chain of benefits, causing a positive impact on the lives of their owners, their local communities, their families, their employees, suppliers, partners, etc.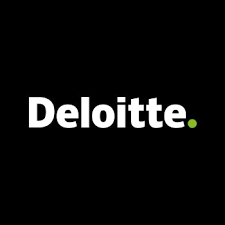 This is why the company set out to calculate the impact that its activity has on the lives of the owners of online businesses present on the platform , through a report dubbed "The Shopify Effect" . For this, it has had the collaboration of Deloitte , a firm of professional auditing and consulting services.
The Shopify Merchant Pool, the World's Largest Employer
Shopify-based businesses  generated   five million jobs and more than $ 444 billion in economic activity in 2021, an increase of 45% from 2020 . This data makes the sum of Shopify merchants the largest workforce in the world. In addition, this group would form the second largest company in the world in terms of revenue, surpassing giants such as Amazon, Apple or Volkswagen.
The impact of Shopify internationally
Based on the data reflected in the report, which corresponds to 2021, Shopify sellers sold more than 25,000 million dollars (just over 23,000 million euros) in goods and services outside their country of origin . As for small companies, they managed to generate as much money as the six highest-grossing superhero movies combined, 11,000 million dollars (about 10,400 million euros).
In Europe, merchants from this continent exported goods and services worth 4,000 million dollars (3,800 million euros) outside their continent, which represented an increase of 39% compared to 2020. On the other hand, online businesses present in developing countries generated 700 million dollars more in income in 2021 than in 2020, going from 5,800 million dollars to 6,500 million (6,175 million euros).
The impact on the partner ecosystem
Shopify's partner ecosystem includes developers, designers, marketers, accountants, logistics providers, and a host of other experts who help sellers on the platform succeed with their businesses. This ecosystem generated 656,000 jobs and 32,000 million dollars (just over 30,000 million euros) in revenue in 2021 . Likewise, partners increased their earnings by 45% compared to 2020 , which was almost seven times more revenue compared to Shopify's revenue in 2021.
Shop, the Shopify app that works like a marketplace
In April 2020, Shopify announced the launch of Shop, . With Shop, users can still track their shipments, but it also allows them to browse a feed of recommended products , learn about new brands, and make purchases right in the app.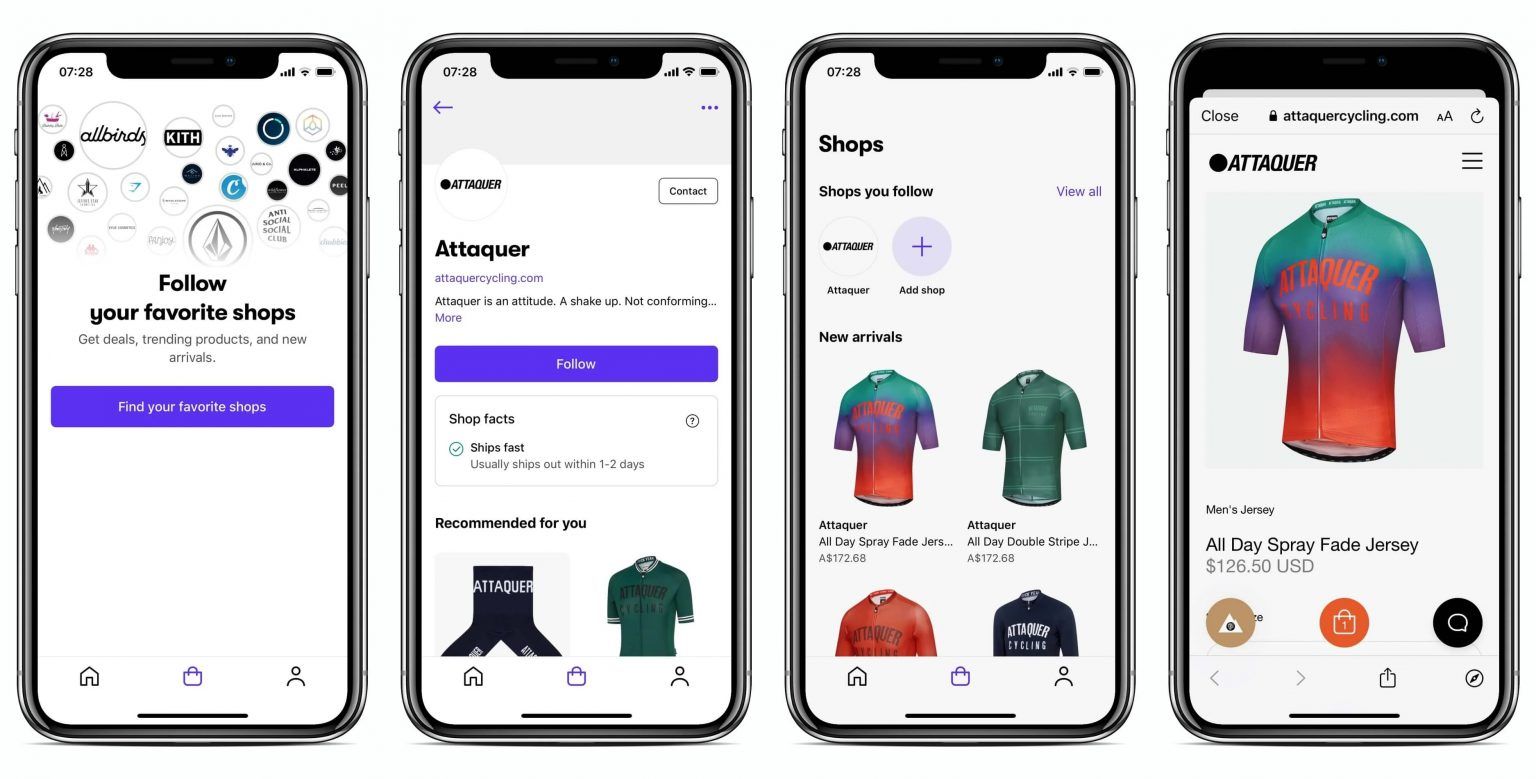 Stores can integrate the Shop Pay payment system that allows consumers to pay with just one click. With this they can improve the customer experience and reach new potential consumers. Under the "Stores" tab, consumers can find a personalized shopping feed, displaying product selections, special offers and new products to discover. This feed is powered by the purchase history of consumers and the brands they follow in Shop.
Shop also shows if the online store is physically close to the user, and if it offers a store order pickup option. In this way, customers can find local businesses in case they prefer not to wait for the parcel service.
TikTok and Spotify, the entertainment platforms join forces with the CMS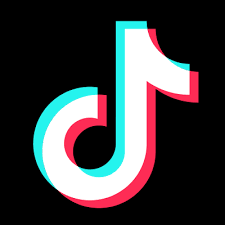 The alliance between Shopify and TikTok began in early 2021 and evolved until it led to the integration of a purchase tab in the profiles of brands and businesses present on the Chinese social network and that have a Business account. This new tab includes a dropdown list that shows the products that the seller has available in their Shopify store , and which buyers can click to access. However, the purchase will be made in the online store, the buyer being taken to it directly, not in the social network itself.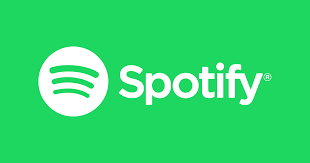 Like TikTok, Spotify was quick to see the opportunity for artists with an account on its platform to collaborate with Shopify to boost the sale of their products. By integrating direct links into artist accounts, artists will be able to connect their Spotify for Artist accounts with their Shopify online stores , sync their product catalogs, and also select which items they want to display directly on their Spotify profiles. music platform. In addition, Shopify is presented as the perfect solution for both small and large artists, since it has a diverse range of plans, which can be adapted to the different budgets and needs of one or the other.
Linkpop, Shopify's "link in bio" solution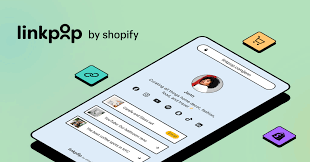 The evolution of Shopify is also reflected in its updates and implementation of new tools, such as Yoast Seo , the optimization system or Wise Pad 3, the omnichannel POS hardware solution , offering a more complete experience to its users. The most recent example of this is Linkpop , a new free feature geared towards content creators and based on the link in bio . This tool will allow brands to insert a link in the biography of their network profiles, through which their followers will be able to directly access the product or service, as if it were a showcase, thus prioritizing trade.
Another advantage of this tool is that purchases can be made within Linkpop itself , so that the customer does not have to leave the platform from which they accessed the product or service. In addition to these, Linkpop offers other interesting features that will boost the sales of its users, such as analytical tools or the possibility of personalization.
Shopify launches YouTube Shopping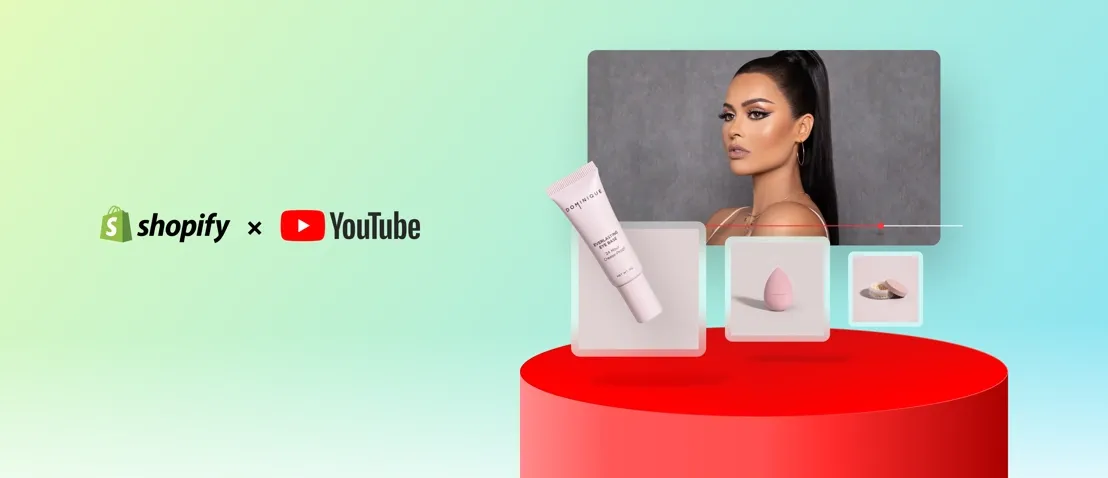 In July 2022, Shopify and  YouTube jointly launched a new solution that allows content creators and merchants to combine their communities and businesses in a single space: YouTube Shopping . Thanks to this new functionality, brands can easily integrate their online stores with one of the largest social networks  and entertainment platform.
This update, carried out worldwide and also available in Spain, responds to the need to facilitate purchases on a channel that connects so well with its audience, such as YouTube .
Shopify merchants can easily sell on YouTube Shopping in three ways:  videos ,  live streams ,  and  the store tab . In addition, being linked to Shopify, which works as an operating system, the product catalog is constantly updated . That is, if you change the price of a product or its images in your online store, this will happen at the same time in YouTube Shopping.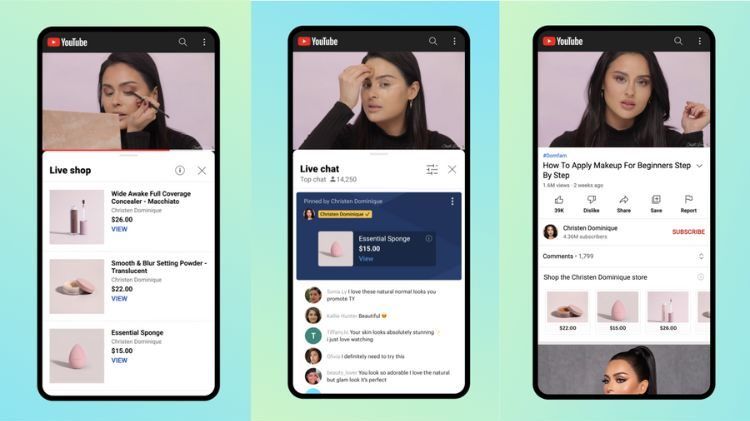 To start taking advantage of this new functionality, just head over to the Shopify App Store and you'll find the Google Channel app. Next, in the Google Channel YouTube Purchases section, you'll need to connect your YouTube account. From there, you'll choose which products to display for YouTube Shopping. Finally  you can add products to your videos from Monetization > Purchases.
But… how does Shopify work?
Shopify is a CMS for eCommerce that allows you to design your online store to your liking without the need for programming knowledge, it's that simple. You can make your own online store in a few minutes with total ease. The interface it presents is very flexible and the process of building the store is very intuitive and efficient without wasting time browsing. It is a CMS that will make management tasks easier for you from the beginning.
The only thing you will need is to access their website and add an email to start creating your online store. Next, fill in all the information requested (this step is very simple), choose a payment plan and finally a template that you are going to use. It has more than 100 so you will have a lot to choose from. Both free and paid and also ordered by business sectors (fashion, art, technology, etc).
If you also have some basic knowledge of HTML and CSS, you will have the option to customize the design of the template you choose, but this is already the next level.
How much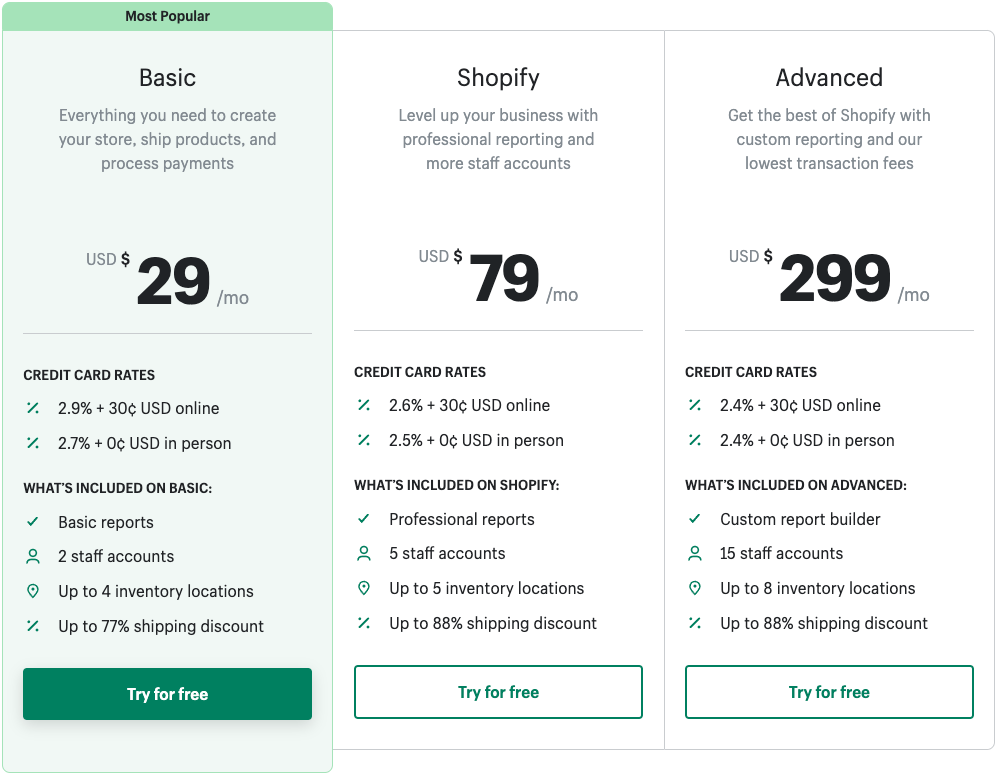 Basic Plan (29 usd/month, around 26 euros per month). The easiest plan to create unlimited products and categories, with 2 accounts for employees.
Shopify Plan (79 usd/month, about 72 euros per month), which reaches 5 accounts and includes the possibility of creating performance reports.
Advanced Plan (299 usd, or around 273 euros in total) for large businesses, with the possibility that up to 15 employees can access their control panel.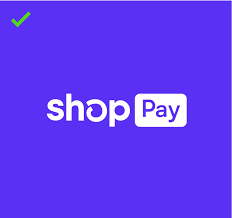 Keep in mind that in addition to these prices, you will have to add the fee (between 2.4% and 1.8%, depending on the plan you have chosen) for each payment you receive by credit card in the case of using Shopify Pay , Shopify's native payment processor.
Other Alternatives: Shopify Lite and Shopify Plus
Shopify expands its pricing offering with Lite and Plus plans, each located at one end of the pricing spectrum.
Shopify Lite (9 usd/month, around 8 euros per month). An interesting solution to test the reception of your products in the market, this plan allows you to add an online sales function to your current website or blog (WordPress, Squarespace, etc), and also to your Facebook page.
Shopify Plus (2,000 usd/month, around 1,870 euros per month). This option is designed for large companies with high sales volumes, capable of handling the large traffic generated on their platforms and offering a fast browsing experience to their customers.
And what are its advantages?
Simplicity in the creation and management of your online store. It will be very easy for you to create, customize and prepare your online store to start selling in no time, and you can also design a blog to promote your store with it.
Hosting included so you won't have to worry about the loading speed of your store.
Good customer service. Assistance through forums, email or even chat. It also has Shopify Academy, a platform with free courses to help you manage your business.
Customer statistics (in higher payment plans), which will help you guide your sales strategy.
Payment facilities , since they have more than 70 international payment currencies that allow you to sell locally and in other countries.
You can sell even without having the product itself since it integrates with Dropshipping sites with apps like Ordoro or Inventory Source.
Automatic tax system, so you do not have to worry about anything since Shopify automatically takes care of state and country taxes based on the location.
Unlimited products that can be varied according to characteristics, with the possibility of importing or exporting the products with csv files or one of the apps for importers/exporters in the store.
Accept and manage orders in a matter of seconds, since you will receive an email or mobile notifications every time you receive a new sale. Customers like the immediacy of the service.
Not everything can be so good...
It is not open source. Oops. So if you opt for this platform, you will have to pay to access its plans.
You will not have great modification options in the "Check Out" processes and they could be considered as "limited".
It has a cost that you must face every month.
Finally, keep in mind that there are some features such as paid subscriptions that, if you want to have them, you will have to pay a commission to use them.
And now that you know what advantages Shopify has and how easy it is to use, are you going to use it to create your online store?